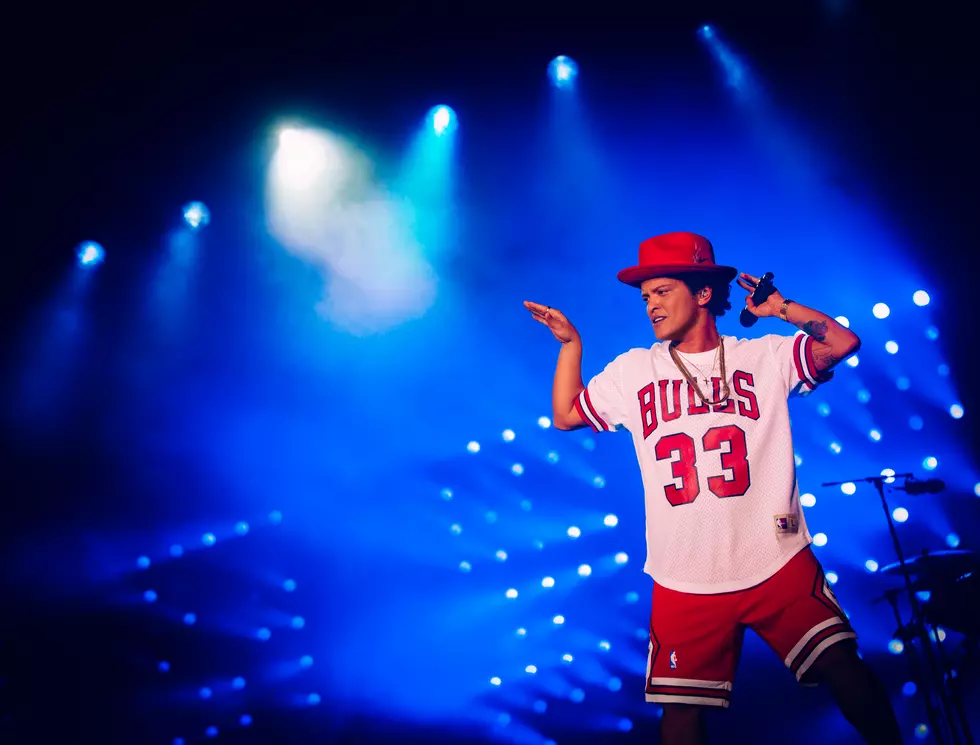 PHOTOS: B100 Takes On Lollapalooza
Florent Dechard/Lollapalooza 2018
It's one of Chicago's biggest events every year. It brings in fans from all walks of life. It brings in top artists. There's nothing quite like it: Lollapalooza.
This year, Andi and Govia got backstage access to the show, and got to talk to some fan-favorite B100 artists including Bazzi and Portugal. The Man. And, thanks to some incredible photographers, we got an up close look at each show.
So, let's break it down by day:
Lolla is definitely a marathon, not a sprint. The festival started on Thursday, with performances from Madison Beer, Jaden Smith, Travis Scott and more. Check out these photos of Khalid and Camila Cabello:
Camila played all her hits – "Havana" was her encore and it brought the house DOWN. But she also snuck in some music she never released, and performed a quick cover of Elvis Presley's "Can't Help Falling In Love" as the sun set.
It was an emotional show for everyone, including Cabello. Between songs, she told the audience "I'm the most emo person here. Unless Lana [Del Rey] is here."
Friday brought in even more smash artists, including Walk The Moon, James Bay, Lauv and Bebe Rexha. Post Malone got up close and personal with his fans, hopping down from the stage and dancing through the masses.
Of course, the biggest crowd of the night came for Bruno Mars. He was ready for Chicago; him and the entire band were decked out in Chicago Bulls jerseys (Bruno rocked Scottie Pippen's number, naturally). He closed out the Grant Park stage in true Bruno fashion: fireworks. There were thousands on thousands of people in the field, lining the edges, even down the street. (Cardi B did not come out, she's home with her new baby).
Day 3 of Lollapalooza was HOT – literally and figuratively. Temps in the city reached near triple digits, with humidity piling on. It was the first Lolla in years where it didn't rain at all. But a little heat doesn't stop fans from having the time of their lives at Lolla.
Dua Lipa, The Weeknd, Logic and Daya all performed on Saturday. We got the chance to chat with Daya after her set, reminiscing on her time at Lolla as a fan. Andi even shotgunned a water can with her...well, she tried. Check out what happened:
Four days into Lolla, you might think exhaustion would seep into the crowds. But that is definitely not the case. With performances from Gucci Mane, Bazzi and Portugal. The Man, fans were as hyped as ever.
Backstage, Andi quizzed the band's guitarists Eric and Zach about the state they're calling home: Oregon. They're originally from Alaska, but they've definitely gotten to know their new home well.
The band is no stranger to Lollapalooza, this year was their fourth appearance, by Zach's count.
We also sat down with Bazzi to discuss his latest collab with Camila Cabello, and got him to rap his favorite Eminem song. Watch:
Lolla may be known primarily for the incredible lineup it brings in, but we can't overlook the food. The fest offers audiences a huge variety, including some unexpected options – like a lobster corndog.
All in all, it was one of the best Lollapaloozas yet! We can't wait to see what next year has in store.