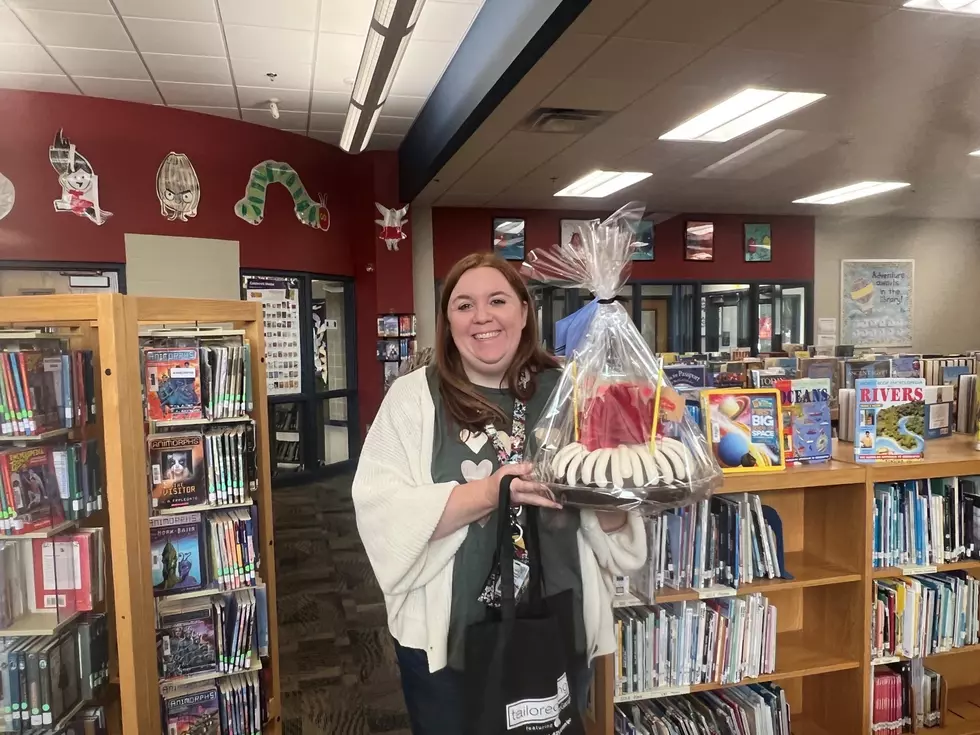 QC Teacher of the Week: Colleen Gould At Neil Armstrong Elementary, Bettendorf
QC Teacher of the Week Spring 2022
The 2022 Spring semester may be getting ready to wrap up but we're still showing the love for QC teachers and educators with our awesome program with Nothing Bundt Cakes, called QC Teacher of the Week and we are so excited to introduce you to this week's teacher of the week!
It's time to announce this week's B100 and Nothing Bundt Cakes QC Teacher of the Week!
Congrats go to Miss Colleen Gould, who is the Teacher Librarian at Neil Armstrong Elementary in Bettendorf!
Miss Gould was nominated by Krystale Hintermeister, who had this to say in her nomination:
Colleen Gould is the Teacher Librarian at Neil Armstrong Elementary in Bettendorf. I am nominating Colleen because even though every day can be challenging she is always there with a smile on her face and a fantastic attitude. She often gets graduates come in to see her and tell her how much she meant to them. When out and about kids always run up to Colleen with open arms because they are so excited to see her! When you meet Colleen you will realize right away how much she deserves anything fantastic! She brings a smile to every room and you can feel the love from that big heart of hers!
We love surprising our educators with QC Teacher of the Week! For being our QC Teacher of the Week, Miss Gould received with a B100 Prize Pack which included a B100 koozie, stickers, Bubbl'r from Pepsi, and more cool stuff, plus an awesome cake from Nothing Bundt Cakes! 
Thank you for your hard work and dedication, Miss Gould! To nominate your favorite teacher for QC Teacher of the Week, click the button below:
NOMINATE: QC Teacher of the Week
Congrats to all of our Spring semester QC Teachers of the Week of 2022!
If You've Ever Wanted A Mall, You Can Buy This Illinois One
A mall in Illinois is up for sale, starting with a $1.5 million bid. Take a look and see if it's for you!
New Coffee Truck Is Becoming An Essential For Clinton Residents
Clinton residents have a new option when it comes to coffee, but they may not get it in the same spot every day. Essential Coffee is the new coffee truck in town and it's becoming a daily essential for residents.