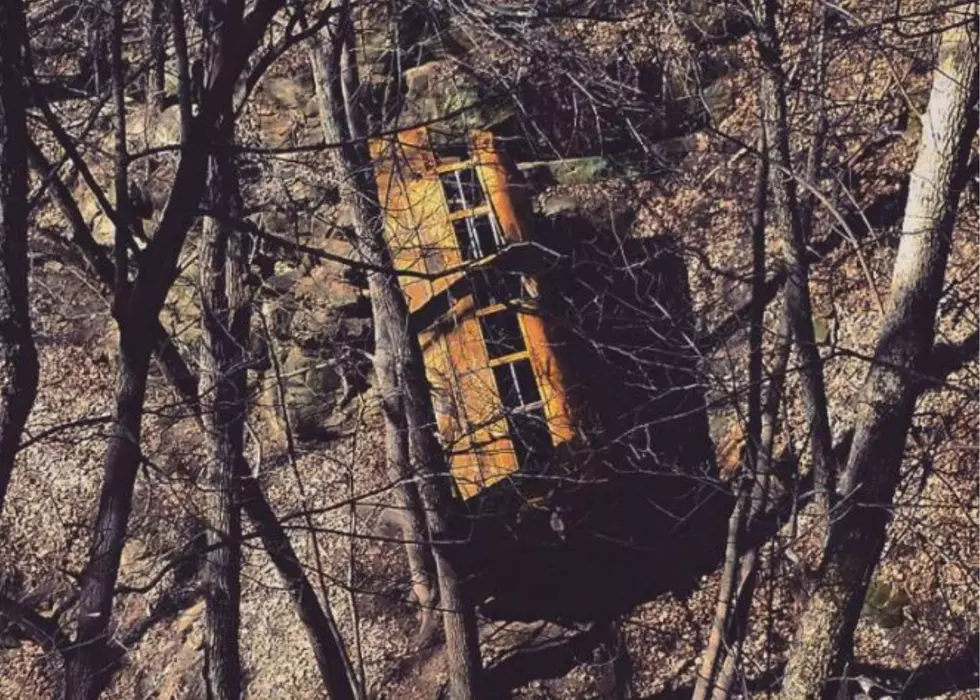 This Creepy Iowa Hike Leads You To An Abandoned School Bus
Ryan Shepherd/AllTrails
If you're really feeling the Halloween spirit, there's a hike in Iowa you might want to check out.
Near Eldora, Iowa is the Wildcat Cave Trail. It's not a difficult hike, according to AllTrails. It's 2 miles in total. It takes you down a ravine to Wildcat Cave but you will see many cave networks along the way.
To find Wildcat Cave, according to AllTrails, you will cross a footbridge, follow the ravine to the right, and go down the river about 30 feet. Because it's a low-lying area, obviously don't do this if it has or is expected to rain a lot.
Only In Your State says that the trail used to have an abandoned steel bridge but now what you'll see on the journey to the cave is much more curious.
It's a school bus.
Yep, a school bus.
You're probably wondering the logical question: how did that get there? It's a mystery but you could get closer to the bus and examine it more. There's also a rumor that Wildcat Cave itself was the hideout of infamous outlaw Jesse James.
If you want to climb up into Wildcat Cave, AllTrails suggests that you bring kneepads, a bright flashlight, and gloves. It also says that the cave is "muddy and smells of animal" so there's that.
But the trail to Wildcat Cave looks like a beautiful trek.
You'll even see carved signatures on the cave that date back to the 19th century.
The Wildcat Trail Access is at 31504 215th Street in Eldora.
Highest Paying Jobs in Iowa in 2021
These are the Top 20 highest-paying jobs in the state.
You Can Book These Adorable Cabins In Starved Rock State Park
Getaway, a chain of cabins, has opened up an outpost in Starved Rock State Park. See the pics of the cabins!