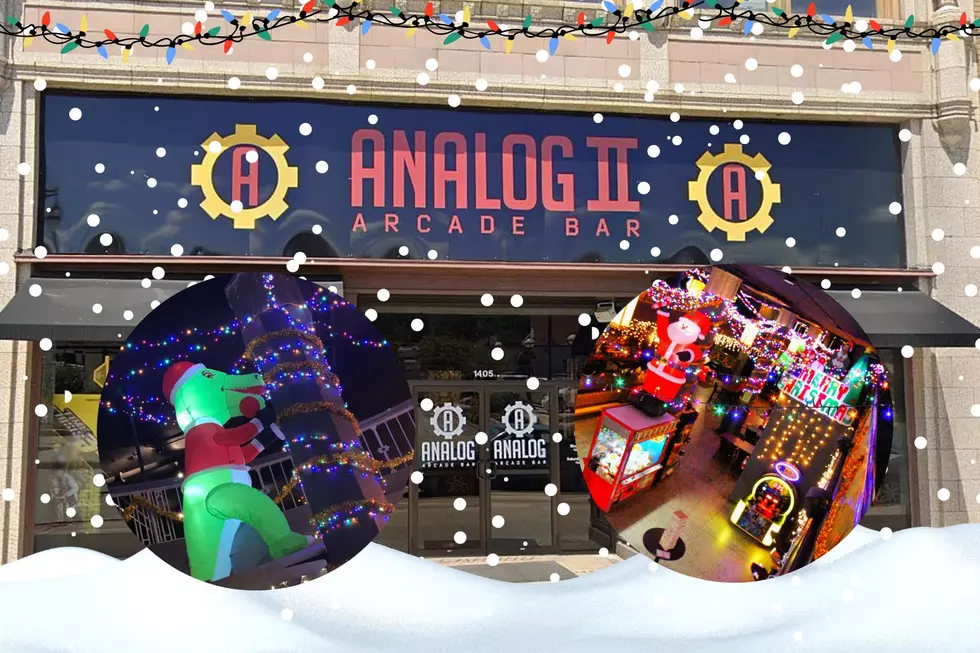 Win Disney On Ice Tickets In With Christmas Fun In Downtown Moline
Google View, Canva
The holiday season is right around the corner and Analog II Arcade Bar in Moline will once again be filling the place with so much Christmas spirit, Santa Claus won't know what to do. Analog Moline presents its holiday pop-up, Super Awesome Christmas Time II. This holiday pop-up will feature thousands of Christmas lights, a ton of tinsel, specialty cocktails, and more all to get you into the holiday spirit.
YOU MUST BE PRESENT AT ANALOG IN MOLINE TO WIN!!
Analog II Arcade Bar announced that is bringing back its holiday pop-up, Super Awesome Christmas Time II.  This two-month holiday-pop up will be sure to get the Quad Cities into the holiday spirit and will feature fun for adults and families during the duration of the pop-up.
This is the second year that Analog Moline is putting on this holiday pop-up, hence the name Super Awesome Christmas Time II. This holiday pop-up is something you have to see to believe.
Last year, they only had 30,000 lights and 1,000 feet of tinsel, but for Super Awesome Christmas Time II, there will be more of everything. This year, the pop-up will feature over 35,000 Christmas lights, 1,500 feet of tinsel, specialty cocktails, surprise visits from Santa, and much more.
Super Awesome Christmas Time II will even begin earlier than last year. It will officially begin on Tuesday, November 1st, and will end on New Year's Eve.
Super Awesome Christmas time is family-friendly every day they are open until 9 p.m.Bring your friends, family, or co-workers down to celebrate the holidays in style!
Analog and Lopiez Moline Hours:
Monday - Closed
Tuesday - Friday: Open at 4 p.m.
Saturday & Sunday: Open at 11 a.m.
To get this special Christmas pop-up at Analog Moline started, B100 is joining in the fun of Super Awesome Christmas Time II on:
TONIGHT!! Friday, November 4
Friday, November 18
Friday, December 9
Connor and Sarah will be there those days broadcasting from 6 p.m. - 8 p.m.!
Analog co-owner Dan Bush said in the press release,
"We had such a blast hosting this event last year that we had to bring it back bigger for year two. We want to give people a chance to reconnect with their friends, co-workers, and loved ones, and Analog Moline is the perfect place to do just that."
Get in the holiday spirit the right way! Find more details on the Analog Moline Facebook page. Analog Moline is located at 1405 5th Ave. in downtown Moline.
Essential Winter Emergency Kit Items
Winter season in the Quad Cities means cold temperatures, heavy snow, and slick roads. Hopefully, you won't ever need to tap into your winter emergency kit, but it's better to have one in your car than to be unprepared. Make sure you have these essential items in your car before winter arrives in the Quad Cities.
TYCOGA Vineyard & Winery
TYCOGA Vineyard & Winery in DeWitt, IA is allowing you to enjoy their patio during the winter months. Rent one of their heated igloos to enjoy their award-winning wine and wood-fired pizzas with your 7 closest wine friends.