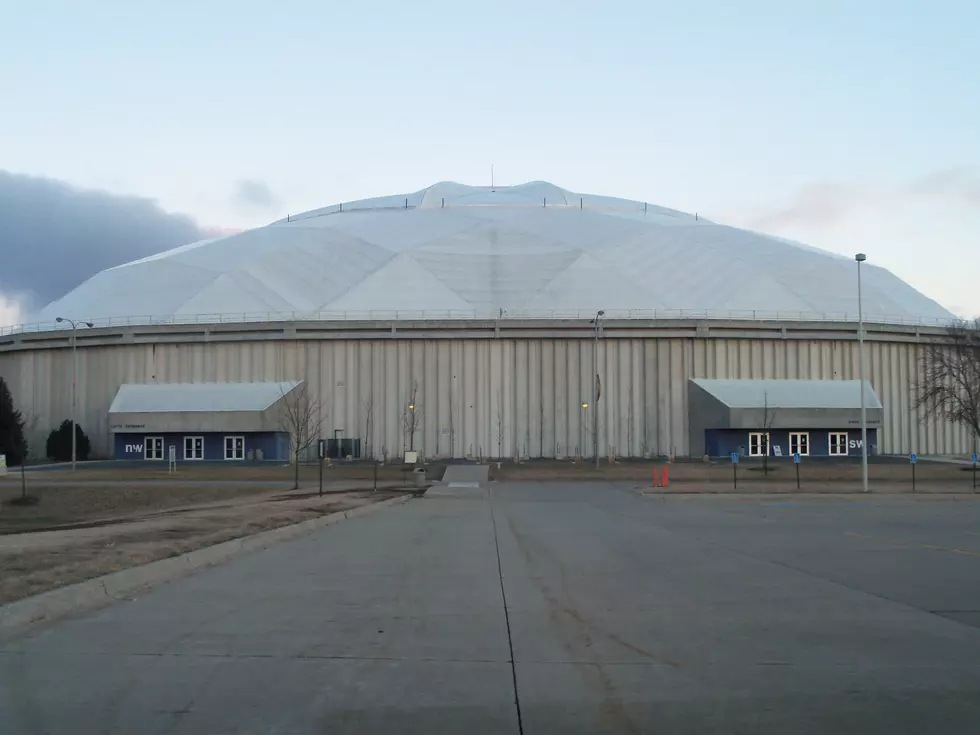 UNI-Dome Hosting High School Football Semifinals
Photo By: Elwin Huffman - Townsquare Media
The road to the UNI-Dome has reached its destination for the 24 teams that have qualified for the Iowa High School football semifinals.
Four teams in each of six classes will be playing in Cedar Falls this week, with the winners advancing to the championship games next week. The field includes three teams from northeast Iowa: Don Bosco, Grundy Center and Waukon.
Here is the semifinal schedule:
9 AM: St. Mary's, Remsen vs. Montezuma (8-player)
12:30 PM: Don Bosco, Gilbertville vs. Fremont-Mills, Tabor (8-player)
4 PM: Harlan Community vs. Boyden-Hull/Rock Valley (Class 3A)
7:30 PM: Xavier, Cedar Rapids vs. North Scott, Eldridge (Class 3A)
9 AM: Saint Ansgar vs. Regina, Iowa City (Class A)
12:30 PM: Grundy Center vs. St. Albert, Council Bluffs (Class A)
4 PM: Southeast Polk vs. Pleasant Valley (Class 4A)
7:30 PM: Ankeny vs. Dowling Catholic, W.D.M. (Class 4A)
9 AM: Van Meter vs. South Central Calhoun (Class 1A)
12:30 PM: OABCIG vs. Sigourney-Keota (Class 1A)
4 PM: Central Lyon/George-Little Rock vs. Camanche (Class 2A)
7:30 PM: Waukon vs. PCM, Monroe (Class 2A)
Iowa High School Athletic Association officials said late Tuesday that the they don't plan to make any adjustments to the previously announced attendance protocols for the semifinal or championship games.
Earlier Tuesday, Gov. Kim Reynolds  issued a public health emergency proclamation that limits the number of spectators at high school and youth sporting events. Effective at 12:01 AM Wednesday, no more than two people per athlete are allowed to attend basketball games, wrestling matches and other sporting events.
Through reserved seating, spectators attending semifinal and championship games at the UNI-Dome will be seated in group pods, and they'll be seated at least six feet away from other groups. Tickets can be purchased in groups up to six and prohibited seats will be marked.
Under a pandemic plan established in consultation with the University of Northern Iowa and Black Hawk County Health Department, all non-athletics will be required to wear masks while inside the UNI-Dome. IHSAA officials said the governor considers the state football semifinals and finals equivalent to an outdoor sporting gathering, given the facility's size and the previously planned precautions.
"We believe that with the seating plan and our mask mandates in place, we can conduct the state semifinals and finals games safely," IHSAA executive director Tom Keating said in a news release.
Tickets for the semifinals went on sale Saturday exclusively to participating schools. Remaining tickets will be sold to the public on the day of the games.
Admission is $12.50 and each ticket is good for one game because the UNI-Dome will be cleared between contests. Parking is free at designated lots around the facility.
Enter your number to get our free mobile app
Top 15 'Traveler Ranked' Hotels in the Cedar Valley