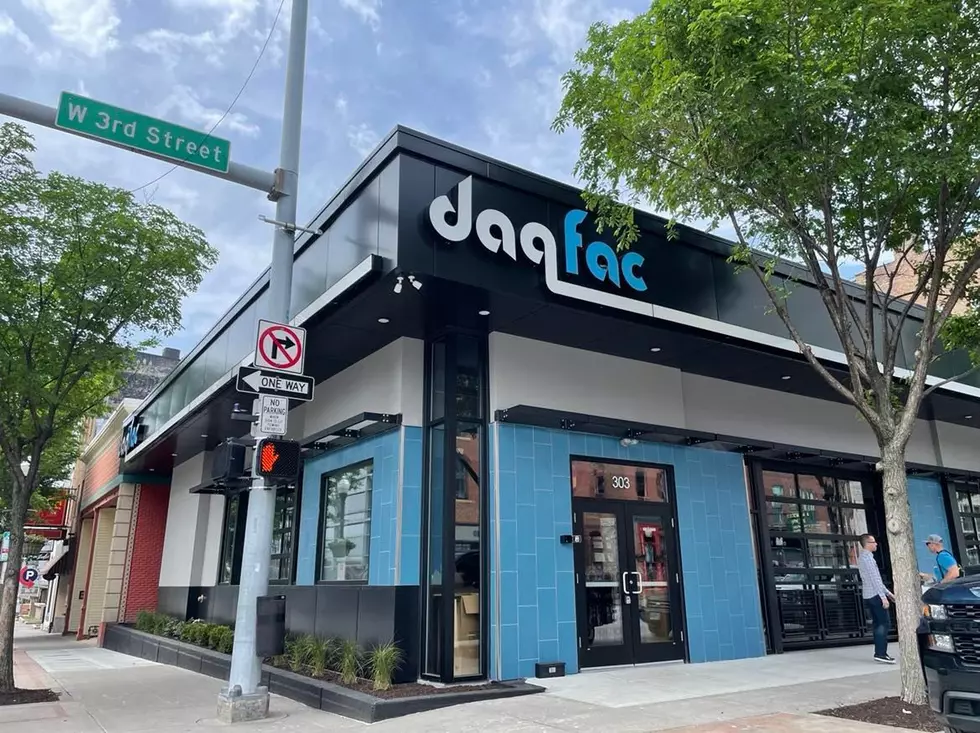 EXCLUSIVE: Take A Look Inside The New Daiquiri Factory In Davenport
Connor Kenney/The Daiquiri Factory
We have been anticipating this opening for quite some time. The Daiquiri Factory is expanding across the Mississippi River to Iowa and the garage doors on the new DaqFac are ready to open for business. Before those doors fly open, we got an exclusive first look inside the new Daiquiri Factory, which sits on the corner of Harrison St. and W 3rd St in downtown Davenport.
The Daiquiri Factory now has a second location in downtown Davenport, IA. For the past 18 years, owner Kyle Peters has been getting the same questions, "when are you going to open a DaqFac in Iowa?"
Well Iowa, the time is now.
We took a trip for an exclusive first look inside the new Daiquiri Factory location in Davenport (303 W 3rd St), which has taken the spot of the old Shenanigans. We can tell you now that you won't even recognize this place because of the incredible renovations that were done.
We spoke with owner Kyle Peters about the new location and what people can expect. He wanted everyone to know first and foremost,
"We aren't leaving The District in Rock Island. We are there to stay but it was time for us to grow and expand across the [Mississippi] river."
Peters also told us his motto for anyone and everyone when they step foot into the new location,
"Whether you're just getting off of work, in a suit and tie from a wedding, or coming off of the river, we want to make sure everyone feels comfortable here."
Hence the Daiquiri Factory's official motto,
"Eliminate the Feeling of Discomfort"
While the new location will be similar in the fact that Peters and his staff will be serving up a variety of alcoholic, homemade daiquiris, there are some noticeable differences. Mainly the fact that you'll be able to order food at the DaqFac in Davenport.
Kyle knew when he wanted to open a location across the Mississippi River in Iowa, he needed to have food. The DaqFac's new location in Davenport will have a full menu but that hasn't been released yet. Kyle says that all of the food will made-from-scratch just like his famous daiquiris.
The other noticeable difference with the new DaqFac location is the massive amount of space it has. With its food and plenty of space to eat, dance, and have fun, the Davenport's DaqFac location is a year-round hangout spot.
The Daiquiri Factory's new location in downtown Davenport opens tonight, Thursday, May 19th at 4 p.m. with a limited menu. If you can't make it to tonight's opening, take a look inside the new Daiquiri Factory location in Davenport, IA.
Come out tonight and this week to "Eliminate the Feeling of Discomfort" (The DaqFac official motto).
EXCLUSIVE: Take A Look Inside The New Daiquiri Factory In Davenport
The Daiquiri Factory is opening up its new location in downtown Davenport on Thursday, May 19th, 2022. We got an exclusive sneak peek inside the DaqFac's new location and Davenport's soon-to-be hottest spot for drinks and food.
100 Interesting Facts About The Quad Cities You May Or May Not Know
The Quad Cities is filled with a very rich history. From inventions to crossing the Mississippi River, to American Presidents and Walt Disney, there are many facts about the Quad Cities that many people do not know. While there are many more stories and facts to share about the Quad Cities, you'll find in these 100 facts that all roads, somehow, lead back to the Quad Cities.