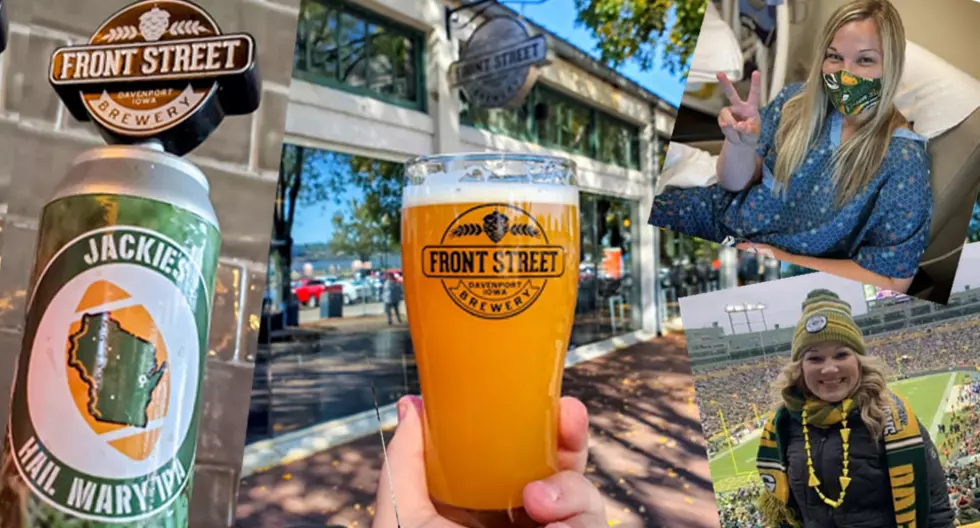 Grab a Pint of "Jackie's Hail Mary IPA" at Front Street to Support QC Woman
Front Street Brewery Jackie's Hail Mary
Davenport Brewery Helps Davenport Woman
Jackie Celske, Augie grad and devoted Quad Citizen, has battled a host of autoimmune diseases for 16 years. After two unsuccessful surgeries that required her to quit her job earlier this year, Jackie recently began experimental immunotherapy. 
Unfortunately, Jackie's "Aaron Rodgers Hail Mary" attempt at regaining her health is not covered by insurance. So here's what Front Street is doing:
"Jackie's Hail Mary IPA" is available now at the FSB Brewery & Taproom and Front Street is donating $1 from each pint poured of it to her cause NOW through October 22nd. The MORE your drink, the MORE Front Street will donate, so come grab a pint!!
More About Jackie:
"Jackie recently began an experimental immunotherapy in Boynton Beach, FL. Oncologist and hematologist, Dr. Maharaj, has discovered that Jackie's immune system is rapidly deteriorating, causing persistent inflammation in her nervous system, significant pain and organ damage. This new treatment will hopefully restore her immune cell function so she can get back to her life in the QC – pain free."
The Fundraiser Event
The fundraiser will be held at The Iconic Event & Reception Venue in downtown Rock Island on Saturday, October 22nd. A taco dinner buffet will be held as well as live music from the Dani Lynn Howe Band. They'll also have raffles and a silent auction.
If you are interested in supporting Jackie by donating a raffle or silent auction item, contact Jennifer at 309-337-9326.
Donations to help with medical bills can be made directly to Jackie via Venmo- @JackieCelske or via PayPal to J.Celske@gmail.com
Barbecue, Pizza, & Beer-Illinois' Route 84 has Some Hidden Gems This Time of Year
Road trips aren't complete until you've stopped into some hidden gems along the way.
'
Signs a Long Hard Winter is Ahead
Have you seen any "evidence" of a harsh winter ahead? Let's take a look at some Midwest folklore stories that could predict how early or rough our winter will be.