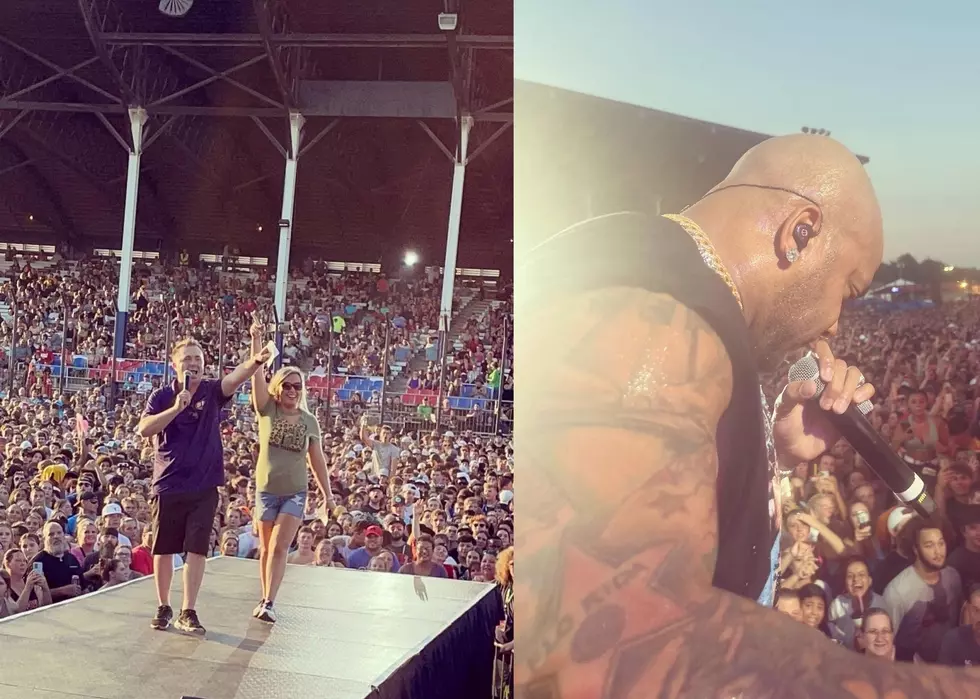 Welcome To My House: Nelly & Flo Rida Take MVF Grandstand With B100 [PICS]
Townsquare Media
Flo Rida and Nelly were the show at Tuesday night's Mississippi Valley Fair grandstand and B100 was there for the action!
After a rainy day, the skies cleared up in time for the show to start. Connor and I had the most fun emceeing it to kick it off. Flo Rida took the stage first. He performed songs we all had on our iPod Classics, opening with "Good Feeling". He even brought me (Sarah) and some other ladies onstage to help him rap "Low" (I was dying by the way. My millennial soul could not deal.)
He later brought the fellas onstage for "GDFR" (it was in fact going down for real) and had a guest rapper join him, a gal named Oyababyy.
When he did "My House" he celebrated a woman who had just went a year cancer-free.
So a very fun kickoff to the show. Next up was Nelly.
Of course, he had to do "Ride Wit Me" so all of us could scream "ayyyy must be the moneyyy" at a ridiculously high decibel. He also did "Country Grammar" and a dance floor throwback I almost forgot about: "Shake Your Tailfeather". He did two Florida Georgia Line songs that he recorded the hooks of: "Cruise" and "Lil Bit". And of course, he did "Hot in Herre" or "Just A Dream".
So if you missed out on the fun or you want to see if you made it into our group selfie, scroll down to see pics of the Nelly & Flo Rida show at MVF!
Welcome To My House: Nelly & Flo Rida Take MVF Grandstand With B100
Apple Bottom jeans and boots with the fur were at the MVF grandstand on Tuesday night and Connor and Sarah from B100 were there for the awesome show!
We Judged The Mississippi Valley Fair Food Contest And It Was Very Hard
Goose from 97X & Sarah from B100 were judges in the 2022 food vendor contest at the Mississippi Valley Fair!
EXCLUSIVE: Take A Look Inside The New Mexican Restaurant in Bettendorf
We got a first visit to Dos Hippies, the newest Mexican restaurant in Bettendorf!