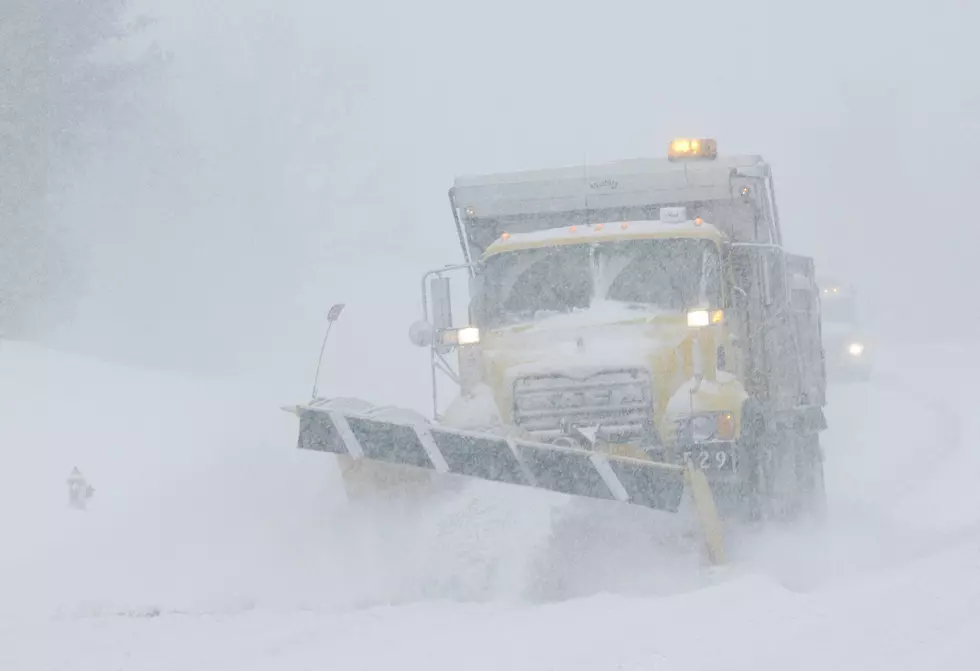 Quad City Area Weekend Snowfall Totals
William Thomas Cain
Enter your number to get our free mobile app
Over the weekend, the Quad Cities saw some more snow fall from the skies and blanket the ground. We didn't see the most snow from this storm, but we still saw a few inches on the ground.
This past weekend, more snow fell in the Quad Cities causing unsafe roads to travel on and more snow to shovel. We originally thought we were going to see snow between 4-6" and we were pretty close on that. Luckily, the National Weather Service has a map showing us just how much snow fell over this past weekend.
Park View, IA reported the most snowfall in the immediate Quad Cities area at 4". The Quad City Airport reported 3" and the Davenport Airport reported 3.9".
The highest snow fall total reported in Iowa over the weekend came from Midway, IA. They reported 8.5" of snow from Saturday into Sunday.
Illinois and Wisconsin is where majority of this snow fell. In Illinois, Chicago-Romeoville, IL reported 12.9" of snow that fell. Just over 1 foot of snow!
Here are the snowfalls totals from cities and towns throughout the B100 listening area.
| | | |
| --- | --- | --- |
| | 2 SSW MIDWAY, IA | 8.5 |
| | 2 NNW SHELLSBURG, IA | 7 |
| | 3 W CEDAR RAPIDS, IA | 7 |
| | 1 NNE OAKDALE, IA | 6.5 |
| | 1 NNE WEST AMANA, IA | 6.5 |
| | 2 W CEDAR RAPIDS, IA | 6.4 |
| | 4 N FAIRFAX, IA | 6.3 |
| | FREEPORT, IL | 6 |
| | 1 SSW HIAWATHA, IA | 6 |
| | 1 NE CEDAR RAPIDS, IA | 6 |
| | 3 NW CEDAR RAPIDS, IA | 6 |
| | 2 SSW HIAWATHA, IA | 5.9 |
| | 3 NNE CEDAR RAPIDS, IA | 5.8 |
| | CASCADE, IA | 5.5 |
| | BERTRAM, IA | 5.3 |
| | LISBON, IA | 5.3 |
| | 2 W MARION, IA | 5.1 |
| | MARION, IA | 5.1 |
| | 1 N FREEPORT, IL | 5 |
| | CENTER JUNCTION, IA | 5 |
| | 1 NNW MONTICELLO, IA | 5 |
| | 1 NE HIAWATHA, IA | 5 |
| | 2 NW MARION, IA | 5 |
| | SOLON, IA | 5 |
| | CLUTIER, IA | 5 |
| | 2 WNW FREEPORT, IL | 4.8 |
| | 3 SW WINNESHIEK, IL | 4.8 |
| | LOWDEN, IA | 4.6 |
| | ANAMOSA, IA | 4.6 |
| | 2 E HIAWATHA, IA | 4.5 |
| | 1 WNW MARION, IA | 4.5 |
| | 1 ENE MOUNT VERNON, IA | 4.5 |
| | 2 NNE STONE CITY, IA | 4.5 |
| | 1 SW UNIVERSITY HEIGHTS, IA | 4.2 |
| | PARK VIEW, IA | 4 |
| | CHADWICK, IL | 4 |
| | MARION, IA | 4 |
| | 1 SSW NORTH LIBERTY, IA | 4 |
| | 2 NNW NORTH LIBERTY, IA | 4 |
| | 3 N TOLEDO, IA | 4 |
| | DAVENPORT MUNICIPALITY, IA | 3.9 |
| | DAVENPORT MUNICIPALITY, IA | 3.9 |
| | 1 SSW CORDOVA, IL | 3.8 |
| | LISBON, IA | 3.8 |
| | 3 SW CENTER JUNCTION, IA | 3.7 |
| | FREEPORT, IL | 3.5 |
| | 1 E MOLINE, IL | 3.5 |
| | 2 SW SAINT DONATUS, IA | 3.5 |
| | 1 NW DAVENPORT, IA | 3.5 |
| | CLARENCE, IA | 3.5 |
| | WYOMING, IA | 3.5 |
| | 4 ENE IOWA CITY, IA | 3.5 |
| | NORTH ENGLISH, IA | 3.5 |
| | 1 SW TRAER, IA | 3.5 |
| | MONTEZUMA, IA | 3.5 |
| | 2 W BETTENDORF, IA | 3.3 |
| | IOWA CITY, IA | 3.3 |
| | PARNELL, IA | 3.3 |
| | 1 SW COAL VALLEY, IL | 3.2 |
| | 3 E STERLING, IL | 3.1 |
| | 3 SW QUAD CITY AIRPORT, IL | 3 |
| | MOLINE QUAD-CITY AIRPOR, IL | 3 |
| | 4 SSE LORAN, IL | 3 |
| | CHARLOTTE, IA | 3 |
| | NE IOWA CITY, IA | 3 |
| | WEST CHESTER, IA | 3 |
| | UNIVERSITY HEIGHTS, IA | 3 |
| | OSKALOOSA, IA | 2.9 |
| | 1 SW FLORIS, IA | 2.5 |
| | 1 E GRUNDY CENTER, IA | 2.5 |
| | 1 W BETTENDORF, IA | 2.5 |
| | 3 ENE GARDEN PLAIN, IL | 2.5 |
| | ALTONA, IL | 2.2 |
| | CAMBRIDGE, IL | 2.1 |
| | HIAWATHA, IA | 2 |
| | 2 N BURLINGTON, IA | 2 |
| | 4 NNW WEST PEORIA, IL | 2 |
| | TOULON, IL | 2 |
| | 2 E GRIFFIN, IL | 2 |
| | 1 SSW KEWANEE, IL | 2 |
| | FULTON, IL | 2 |
| | 3 WNW PEORIA, IL | 1.5 |
| | GALVA, IL | 1.5 |
| | ALBIA, IA | 1.3 |
| | 3 ENE CHARLIE HEATH MEM, IA | 1.3 |
| | PEORIA, IL | 1.3 |
| | 2 NNW OAKLAND MILLS, IA | 1.1 |
| | 2 E SPRING BAY, IL | 1.1 |
| | 5 NW PEORIA, IL | 1 |
| | 1 N PEORIA, IL | 1 |
| | GERMANTOWN HILLS, IL | 1 |
| | 1 NW KNOXVILLE, IL | 1 |
| | WATAGA, IL | 1 |
KEEP LOOKING: See What 50 of America's Most 'Pupular' Dog Breeds Look Like as Puppies