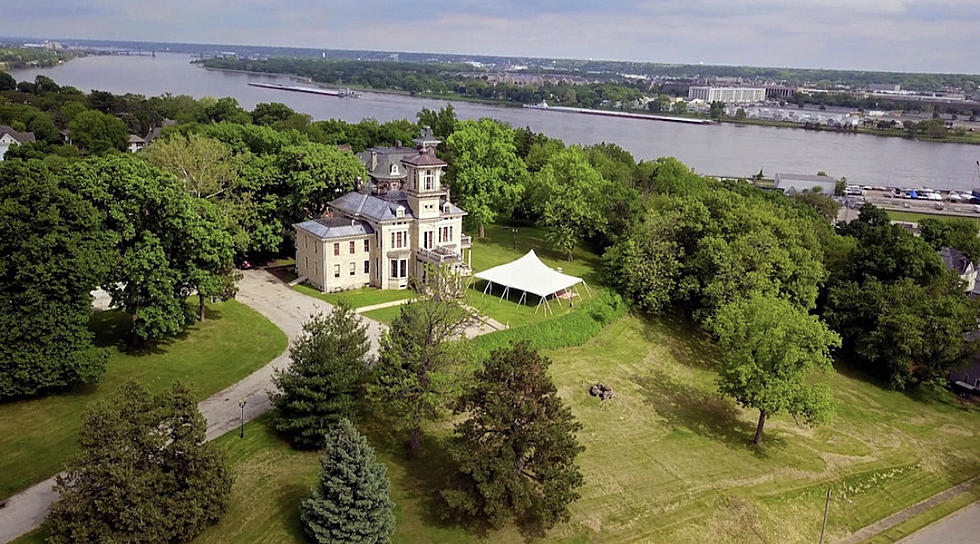 Stay in One of the Most Historic Mansions in Scott County
Renwick Mansion/VRBO photos
Wouldn't it be fun to book an entire historic mansion for friends and family that's perfect for a live action game of Clue? I've found the perfect place.
The Renwick Mansion is one of Davenport's finest examples of Italian Revival Architecture. You can book the entire mansion that comes complete with panoramic views overlooking the Mississippi River, downtown Davenport, and the Village of East Davenport.
This beautiful villa sits on four acres of land and is listed on the National Registry of Historic Places in Scott County. It's the perfect place to host family reunions, leaderships meetings, corporate events, slumber parties, anniversary celebrations, extended stays and more.
Here's a complete look inside at the Renwick Mansion and a bit more information about its history.
Renwick Mansion
As I looked at the photos I noticed all the details in every room. There are13 1/2 ft. ceilings the three grand parlors and a library on the main floor that all have original marble fireplaces that have been updated to gas, according to the property listing.
Also included on the main floor is a large marble foyer, a half bathroom and a kitchen with an exquisite tin ceiling and that is equipped with a large refrigerator, sinks, a butlers pantry with service ware and cooking appliances, and several tables and chairs that can be set up as needed for up to 150 guests.
When you go up the original 3 story open staircase to the second floor, there are 6 fully furnished bedrooms: 4 with queen size beds, 2 with 2 twin size beds, 4 with fireplaces, and 3 with balconies. Also on the second floor is a full bathroom with a claw foot bathtub, sitting areas, and access to the main balcony above the porte cochere where you can look over downtown, the Mississippi River, and the beautifully lit centennial bridge.
The third story includes 2 beautiful bedrooms with queen beds, a second kitchen, full bathroom including a claw foot bathtub, two beautifully furnished sitting rooms, one which is used as our Bridal Suite for weddings with a vaulted ceiling, and sky lights.
Reviewers have proclaimed this property has the "best view in Davenport" when you're on the fourth level which is the tower where you get a full panoramic view of the Mississippi River, Villiage of East Davenport and downtown Davenport. The tower is the best place to sit and watch the sun set and rise over the river and downtown.
Here's just one of the reviews:
just plain fun

Stay in a mansion .... this is our second stay this time we celebrated a birthday with a catered dinner and a murder mystery ..... what a perfect house for this type of fun...walked down to the river and enjoyed the river walk!!!
It's not an inexpensive place to stay unless you share the $720 per night fee with other guests. But take note.....it sleeps 10! You do the math. Suddenly this mansion is a bargain! Here's where you can reserve your stay.
If you want more historical information about the Renwick Mansion you'll find it here. .