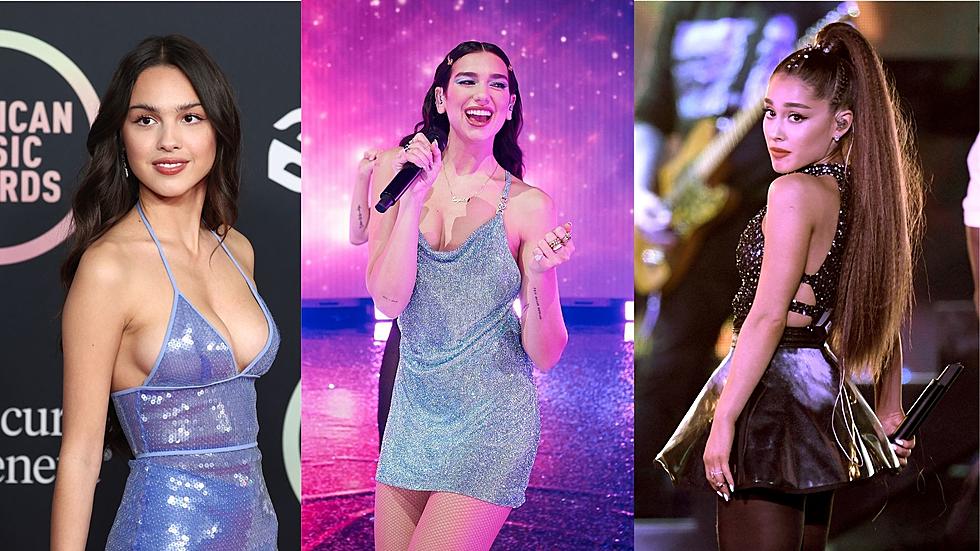 Top 20 Most Played Songs On B100 In 2021
Getty Images
As 2021 comes to an end, we look back at the top-played pop songs in the Quad Cities on B100. From Dua Lipa to Ritt Momney, Lil Nas X to Ariana Grande, the biggest pop stars were heard throughout the Quad Cities.
If you've complained about how you always hear Olivia Rodrigo, Ariana Grande, Ed Sheeran, and so many other major pop stars on B100, that's because those artists have put out the biggest songs of 2021. With the year coming to a close, we are looking back at the songs that have been played the most on B100 and I think you'll agree, these songs are still bangers.
The oldest song on this list is from 2019. Harry Styles' Adore You was first played on B100 on December 14th, 2019, and has been played more than 1,800 times. The newest song on this list, which was also a huge TikTok song, is The Kid Laroi and Justin Bieber's Stay which was first played on B100 on July 10, 2021.
There are two artists you'll find on this list the most. Ariana Grande, who has three songs on this list including positions, pov, and 34+35, and Olivia Rodrigo, also with three songs including good 4 u, deja vu, and drivers license, were the two biggest artists played on B100 in 2021.
Most likely, a lot of these songs will be played on B100 in 2022. Don't be surprised at the end of 2022 that Olivia Rodrigo will still be on this list and Adele will make her way onto this list as well.
Let's take a look at the top 20 pop songs that have been played in the Quad Cities on B100 in 2021.
20

Total B100 Plays in 2021: 1,808

Release Date: December 8, 2019

Billboard Hot 100 Peak: #6

19

drivers license

Olivia Rodrigo

Total B100 Plays in 2021: 1,827

Release Date: January 8, 2021

Billboard Hot 100 Peak: #1

18

Total B100 Plays in 2021: 1,868

Release Date: October 30, 2020

Billboard Hot 100 Peak: #2

17

Your Broke Me First

Tate McRae

Total B100 Plays in 2021: 1,892

Release Date: April 17. 2020

Billboard Hot 100 Peak: #17

16

Total B100 Plays in 2021: 1,955

Release Date: December 16, 2020

Billboard Hot 100 Peak: #8

15

Peaches

Justin Bieber feat. Daniel Caesar & Giveon

Total B100 Plays in 2021: 2,001

Release Date: March 19, 2021

Billboard Hot 100 Peak: #1

14

Total B100 Plays in 2021: 2,004

Release Date: April 19, 2021

Billboard Hot 100 Peak: #27

13

Total B100 Plays in 2021: 2,037

Release Date: 25 June 2021

Billboard Hot 100 Peak: #2

12

Go Crazy

Chris Brown x Young Thug

Total B100 Plays in 2021: 2,090

Release Date: May 19, 2020

Billboard Hot 100 Peak: #3

11

Stay

The Kid Laroi & Justin Bieber

Total B100 Plays in 2021: 2,202

Release Date: 9 July 2021

Billboard Hot 100 Peak: #1

10

Montero (Call Me By Your Name)

Lil Nas X

Total B100 Plays in 2021: 2,227

Release Date: March 26, 2021

Billboard Hot 100 Peak: #1

9

Put Your Records On

Ritt Momney

Total B100 Plays in 2021: 2,471

Release Date: April 24, 2020

Billboard Hot 100 Peak: #30

8

Mood

24kGoldn feat. Iann Dior

Total B100 Plays in 2021: 2,488

Release Date: July 24, 2020

Billboard Hot 100 Peak: #1

7

Total B100 Plays in 2021: 2,498

Release Date: April 1, 2021

Billboard Hot 100 Peak: #3

6

Therefore I Am

Billie Eilish

Total B100 Plays in 2021: 2,726

Release Date: November 12, 2020

Billboard Hot 100 Peak: #2

5

Total B100 Plays in 2021: 2,926

Release Date: May 14, 2021

Billboard Hot 100 Peak: #1

4

Kiss Me More

Doja Cat feat. SZA

Total B100 Plays in 2021: 2,959

Release Date: April 9, 2021

Billboard Hot 100 Peak: #3

3

Save Your Tears

The Weeknd

Total B100 Plays in 2021: 3,109

Release Date: August 9, 2020

Billboard Hot 100 Peak: #1

2

Total B100 Plays in 2021: 3,214

Release Date: October 23, 2020

Billboard Hot 100 Peak: #1

1

Total B100 Plays in 2021: 3,362

Release Date: October 1, 2020

Billboard Hot 100 Peak: #2