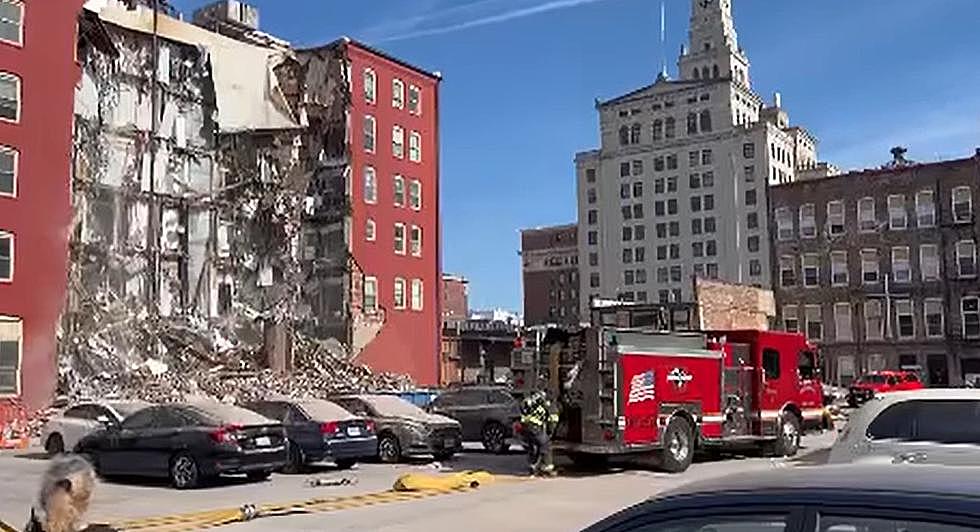 Davenport Evacuates Downtown Building "Out Of An Abundance Of Caution"
KWQC on Facebook
The City of Davenport has evacuated a building near the partially collapsed apartment building on Main Street.
According to a release from the city, on Thursday, crews assessed the condition of buildings close to the collapsed 324 Main Street.
The city says that during this assessment, they determined that the building at 400 & 410 North Main Street (the Executive Square Building) had "areas of structural concern". Most of the residential and business units in the building were already vacated on May 31st, but today, the city ordered the remaining five residential units in the building to be vacated too, just "out of an abundance of caution".
This is being done before increased dismantling activity on 324 Main. The building's owner was also ordered to install "temporary structural shoring" to the inside of the building before more crews start taking down 324 Main.
If you have been displaced by this, the Red Cross is ready to help. You can reach out to them at 1-800-RED-CROSS.
If you would like to help residents of the collapsed apartments, you can donate to the Red Cross of Illinois, the Salvation Army, or if you want to donate food, you can take your donations to River Bend Food Bank at 4010 Kimmel Drive in Davenport.
Our news partners at KWQC are keeping up with the latest updates in this situation and they report that earlier this week, the Davenport city council gathered for the first time since the collapse and the council was met with protestors outside in the streets.
10 Ways To Beat Pollen Allergies
Those who struggle with pollen allergies know the struggle can be real. Runny noses, watery eyes, and pure misery are just some of the things that come with pollen allergies. Whether it's fall or spring in the Quad Cities, these 10 remedies can help combat those allergies and make you feel a lot better.
LOOK: Most commonly seen birds in Iowa
Stacker
compiled a list of the most common birds seen in Iowa from Project FeederWatch.