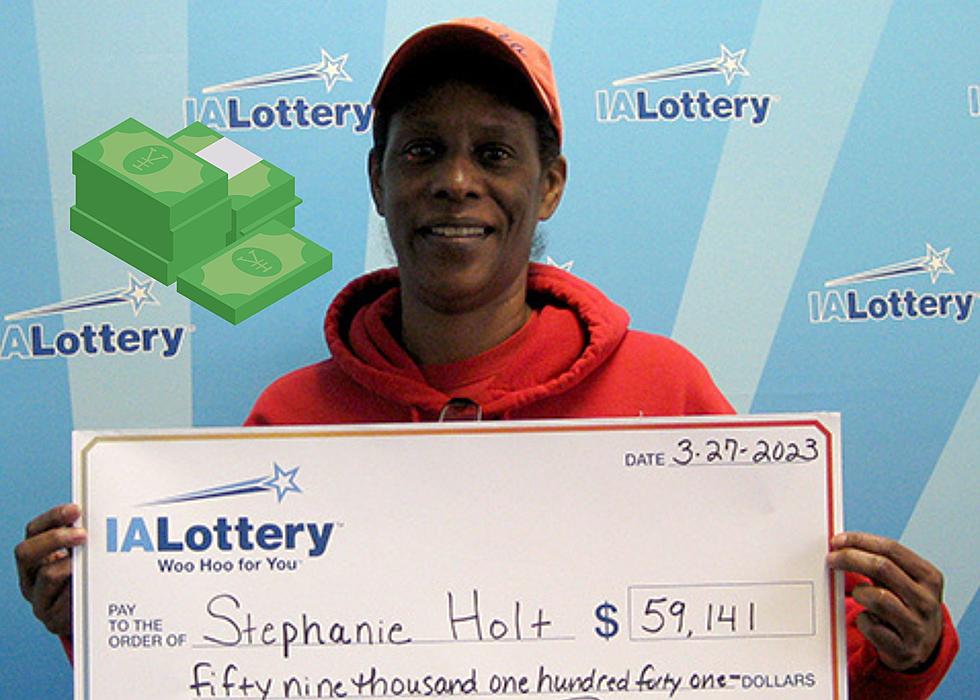 Davenport Woman Wins Over $59k In Iowa Lottery
Iowa Lottery
A Davenport woman has won some serious bank playing the Iowa Lottery.
Stephanie Holt of Davenport has won a jackpot prize of $59,141 in the Iowa Lottery's "Super 7s Progressive" InstaPlay game. She got her ticket at The Liquor Stop on W. 53rd in Davenport and picked up her prize yesterday at the lottery's Cedar Rapids regional office, according to a release from the Iowa Lottery.
Here's how the game works, according to the Iowa Lottery: the Super 7s jackpot starts at $50,000 and increases with each ticket sold statewide until it is won.
Meanwhile, the InstaPlay combines features from instant-scratch and lotto games. InstaPlay tickets are called "scratchless" (because they aren't scratch-offs, imagine that). InstaPlay tickets aren't pre-printed either, they're printed on demand from the lottery terminal.
So you're probably asking yourself: what's it like to win this much cash? You and I may never know but Eastern Iowa has had plenty of lottery luck in the last few months, even after our lucky streak last summer. A Davenport man won Lucky For Life in October, a man in Bettendorf recently won big twice in one year, and two ladies from Clinton and Dubuque each won big lately too. So you still have a valid enough reason to buy a scratch-off from an Eastern Iowa spot and not give up hope. At least not totally.
You can get more details on games and winners in the Iowa Lottery at their website: ialottery.com. Let us know what you would do with $59,000 in the app chat!
Top 20 Surprising Facts You Didn't Know About Iowa
With all these interesting facts about Iowa, it's hard not to develop a newfound appreciation for the state. From their technological, medical, and environmental advancements, Iowa is leading the way in many fields and has a bright future.
Top 12 Things People Never Thought They'd Do as Adults
No one could have ever imagined that they would be doing any of these things when they were growing up. As a younger individual, you probably never wanted to go to bed early and thought you'd be a night owl all of your life, but as you grew up you started to fall into the habit of going to bed early. Many things affect our daily life as we grow up and cause us to change our habits.
Here is a list of 12 things people never thought they would do as adults, but ended up doing anyway.