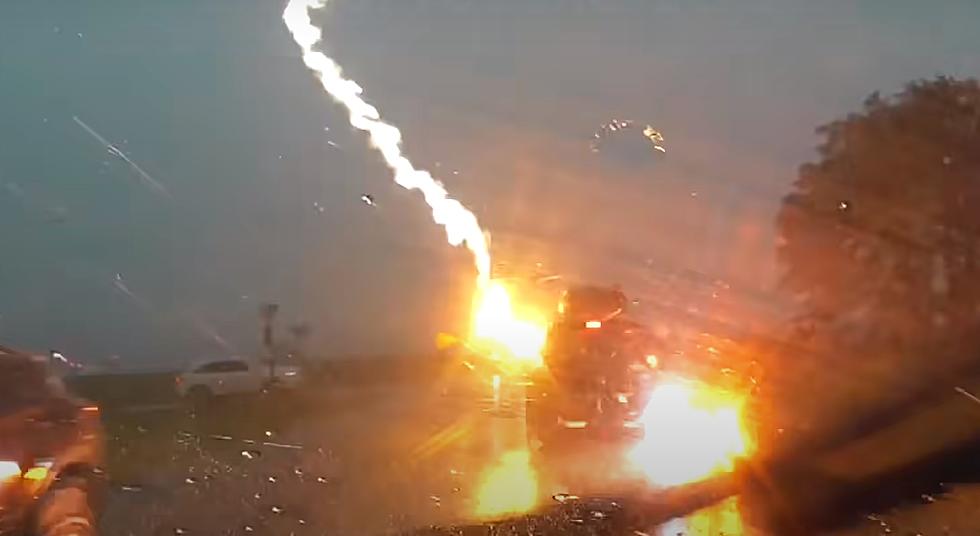 Jeep Gets Hit By Multiple Lightning Strikes (VIDEO)
Live Storms Media via YouTube
Dashcam video caught the exact moment a Jeep Grand Cherokee was struck by lightning multiple times while driving down a highway in Kansas.
In the 13-second video, the vehicle appears to be hit by one bolt of lightning then three or four more times in quick succession, frying the SUV's electrical system. It also appears as if the lightning strikes may have flattened all four of the vehicle's tires.
According to the National Weather Service, lightning strikes such as this can blow the tires, shatter windshields, and disable a vehicle's electrical system. The NWS adds that the outer metal shell of hard-topped metal vehicles does provide protection to those inside a vehicle with the windows closed. Unfortunately, though, the vehicle doesn't always fare so well.
The latter is the case for the Grand Cherokee. The man who recorded the video, storm chaser Carl Hobi, wrote in the video's description;
"The car was dead and stuck in gear and we could not get it into neutral to push off the road. It will most likely be considered totaled."
Thankfully, the five passengers were unharmed but obviously, shaken up. They included a three-year-old, an 18-month-old, and an eight-month-old.
According to the National Weather Service, Lightning kills an average of 49 people each year in the United States and hundreds more are injured. Only about 10% of people who are struck by lightning are killed.
Since 1990, nine people in Iowa have been killed by lightning, according to lightningsafety.com. Lightning has not claimed any lives in Iowa since 2015 when a man and a woman were killed in separate incidents.
The odds of being struck by lightning in your lifetime is 1 in 15,300.
LOOK: Here is the richest town in each state
Just saying the names of these towns immediately conjures up images of grand mansions, luxury cars, and ritzy restaurants. Read on to see which town in your home state took the title of the richest location and which place had the highest median income in the country. Who knows—your hometown might even be on this list.
Iowa Born Sports Stars
What do each of these stellar athletes have in common? They all hail from the Hawkeye State.