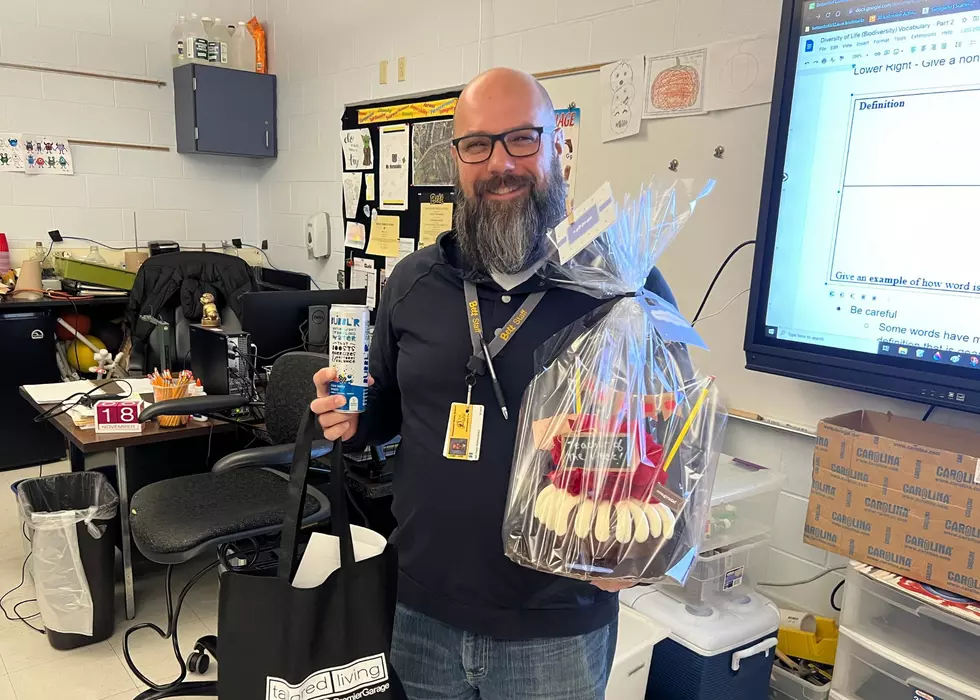 QC Teacher Of The Week: Nathan Hernandez at Bettendorf Middle School
QC Teacher of the Week Fall 2022
Thanksgiving is coming up and we are giving thanks for our local educators with our awesome program with Nothing Bundt Cakes to honor and reward our fantastic Quad Cities teachers and educators. It's called QC Teacher of the Week and we are so excited for you to meet this week's teacher of the week!
It's now time to announce this week's B100 and Nothing Bundt Cakes QC Teacher of the Week!
A big congratulations to Mr. Nathan Hernandez, who is a Science teacher at Bettendorf Middle School!
Mr. Hernandez was nominated by one of his students, Brooklyn. Brooklyn had this to say about her teacher:
Nathan Hernandez at Bettendorf Middle School is my favorite teacher because he makes science class fun and he makes funny jokes. He also likes to play science games with us!
What an awesome teacher! For being our QC Teacher of the Week, Mr. Hernandez has been rewarded with a B100 Prize Pack which included B100 swag, Bubbl'r from Pepsi plus a delicious cake from Nothing Bundt Cakes! 
Even though the fall semester is winding down, you still have time to show your favorite local teacher some love and tell them how grateful you are for them. You can nominate your favorite teacher for QC Teacher of the Week, click the button below:
NOMINATE: QC Teacher of the Week
Congrats and Happy Thanksgiving to all of our Fall 2022 semester QC Teachers of the Week! We are so thankful for all of you!
100 Interesting Facts About The Quad Cities You May Or May Not Know
The Quad Cities is filled with a very rich history. From inventions to crossing the Mississippi River, to American Presidents and Walt Disney, there are many facts about the Quad Cities that many people do not know. While there are many more stories and facts to share about the Quad Cities, you'll find in these 100 facts that all roads, somehow, lead back to the Quad Cities.
10 Best Places To Get Coffee In The Quad Cities
This list is 10 of the best places that you can only find in the Quad Cities. This list is in no particular order, but here are 10 of the best places to get coffee right here in the Quad Cities.