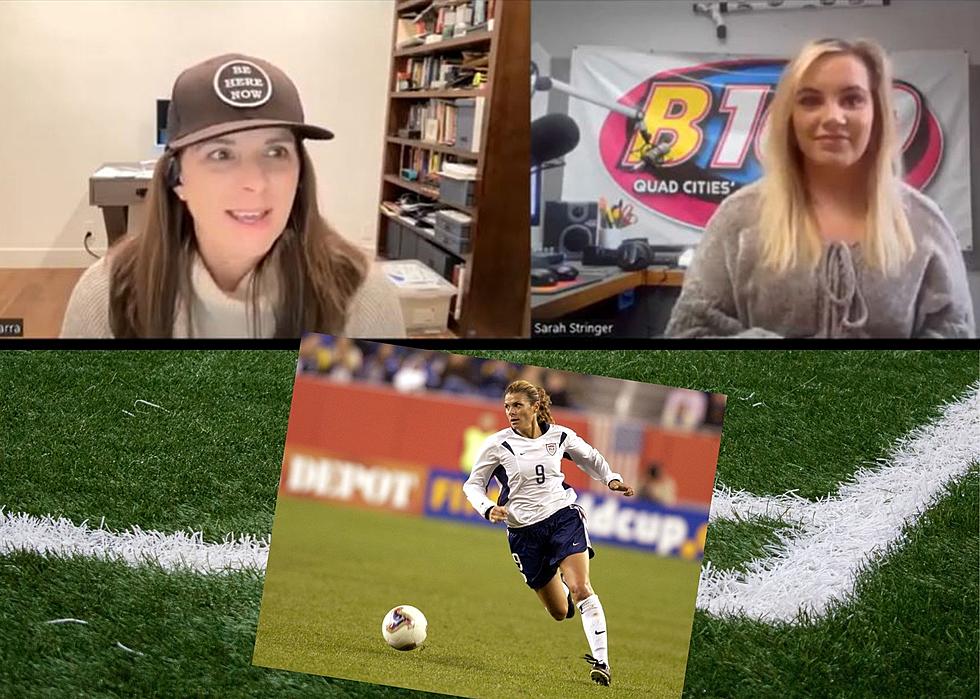 Watch B100's Exclusive Interview With Olympic Soccer Star Mia Hamm
Zoom/Getty Images
I had the chance to chat with Mia Hamm, who you may remember as a two-time Olympic champion and two-time FIFA Women's World Cup champion.
Our chat comes ahead of plenty of cool things on the agenda for the QC. First, this weekend is QC Fit Fest. It will be at the Bend XPO in East Moline. If you're looking to get into shape before summer hits (um @ me) then you should definitely stop by. Advice on fitness and nutrition and also some demos too! Shoutout to the folks at QC Fit Fest for the interview!
Also happening is TeamFirst Soccer Academy, which Mia Hamm, Kristine Lilly, and Tisha Venturini Hoch all lead. There will be camps for young kids and also one for high schoolers. Click here to register and learn more about the camp.
Mia has had a monumental career. She made her debut on the U.S. National Team at just 15. She competed in the 1996 Olympic games in Atlanta, when women's soccer was first introduced to the Olympics, helping Team USA bring home a gold. I remember her on the Wheaties box when I was a tot. She was one of my generation's earliest examples of a strong female athlete.
Mia had plenty of wisdom and advice to impart for young athletes-and really people in general, those who are completely unathletic like me-in our chat today. She started the Mia Hamm Foundation, which has two goals: to help create opportunities for young girls in sports and also to help raise funds and awareness for families who need a bone marrow or cord blood transplant.
TeamFirst Soccer Academy will be in Davenport at the Saint Ambrose Dome on March 12 & 13.
Look At These 13 Amazing Athletes From Illinois In The 2022 Olympics
The 2022 Winter Olympics in Beijing are underway! This marks the first year that the Winter Games are in China, and Beijing is making history as the first city to have played host to both the summer (in 2008) and winter Games.
For the 2022 Winter Olympics in Beijing, 13 athletes are from Illinois check out who is competing below.
11 Celebrities You're Most Likely To Encounter In The QC
Every city has connections to famous people, but the QC has a pretty high volume of famous visitors. Let's take a look at some famous faces you may catch here in the Quad Cities from time to time.