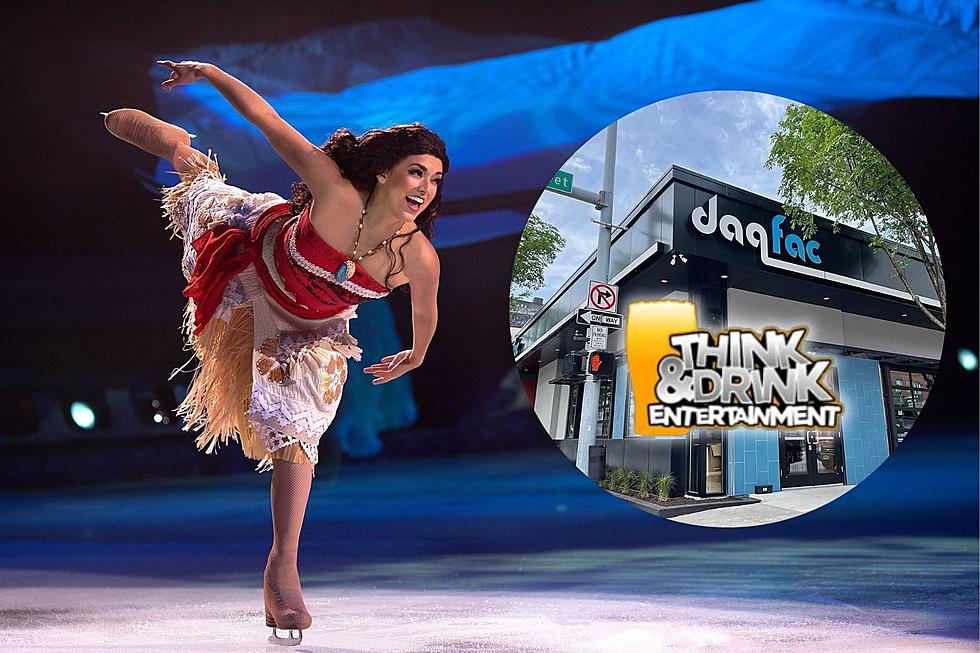 Win Disney On Ice Tickets At Trivia Night Tonight In Davenport
Disney On Ice, Think & Drink Entertainment, Connor Kenney/Townsquare Media Quad Cities
B100 and Think & Drink Entertainment present Disney Trivia at the Daiquiri Factory (303 W 3rd St, Davenport, Iowa) tonight and we'll be there giving you a chance to win a family 4-pack of tickets to Disney On Ice in Moline.
Enter below for your chance to win a 4-pack of tickets. Plus, for every round of Disney Trivia that you and your team win, you'll each get a bonus entry to win the 4-pack of tickets!
**Up to 8 players per team. Disney Trivia with Think & Drink Entertainment begins at 7 p.m. and ends at 9 p.m. at the Daiquiri Factory. All ages are welcome to play and enter to win Disney On Ice tickets. Valid name, email, and phone required for entry. The winner must be present to win. Bonus entries will be entered by Connor Kenney.**
Disney Trivia For Disney On Ice Tickets
Join me and B100 on Wednesday, Nov. 15th at the Daiquiri Factory in downtown Davenport when Think & Drink Entertainment hosts Disney Trivia Night.
Disney Trivia is free to play and all ages are welcome. You can have up to 8 people per team trying to win each round of trivia that is centered around the magic of Disney.
When you join us and play Disney Trivia, you not only have a chance to win house cash but B100 is giving you a chance to win a family 4-pack to the first night of Disney On Ice, Vibrant at the MARK on Nov. 30th.
You don't need to play Disney Trivia to sign up, but you the winner/winning team of each round of trivia will get a bonus entry to win Disney On Ice tickets! You must be present to win. Drawing will take place after trivia is over at 9 p.m.
Disney On Ice Returns To The Quad Cities
The Vibrant Arena at the Mark has announced that Disney On Ice will bring its "Find Your Hero" show to the venue for seven shows from November 30 to December 3rd.
Mickey Mouse, Minnie Mouse, Donald Duck, and Goofy set the stage for an adventure filled with tales of heroism from your favorite Disney stories in Disney On Ice presents Find Your Hero.
Discover the hero inside us all at Disney On Ice. Step inside the story of Encanto with Mirabel and her family and learn that everyone has a special gift. Sail away with Moana and Maui on their journey across the ocean.
Join Elsa on her quest to protect Arendelle. Be inspired as you swim under the sea with Ariel, explore with Belle, and sing along with Rapunzel.
Experience world-class ice skating, iconic music, and stunning costumes that will make Disney On Ice present Find Your Hero an experience the whole family will treasure forever.
Tickets for all seven shows are on sale now. Tickets can be purchased here.
The Top 10 Pizza Places In Davenport According To Yelp
It's time to settle the debate about who has the best pizza in Davenport. To make this list, we looked at the one website that tells us which places the Davenport locals love the most:
Yelp
. We had one stipulation when making this list, the
place must be local.
Gallery Credit: Connor Kenney
Top 10 Highest-Rated Restaurants In Davenport According To Yelp
To determine the top 10 highest-rated restaurants in Davenport, we turn to
Yelp
. Yelp tells us exactly which restaurants in Davenport people think are the best. If you're looking for the best places to eat in Davenport according to ratings and reviews from people in the Quad Cities, this is the list for you.
Gallery Credit: Connor Kenney/Townsquare Media Quad Cities