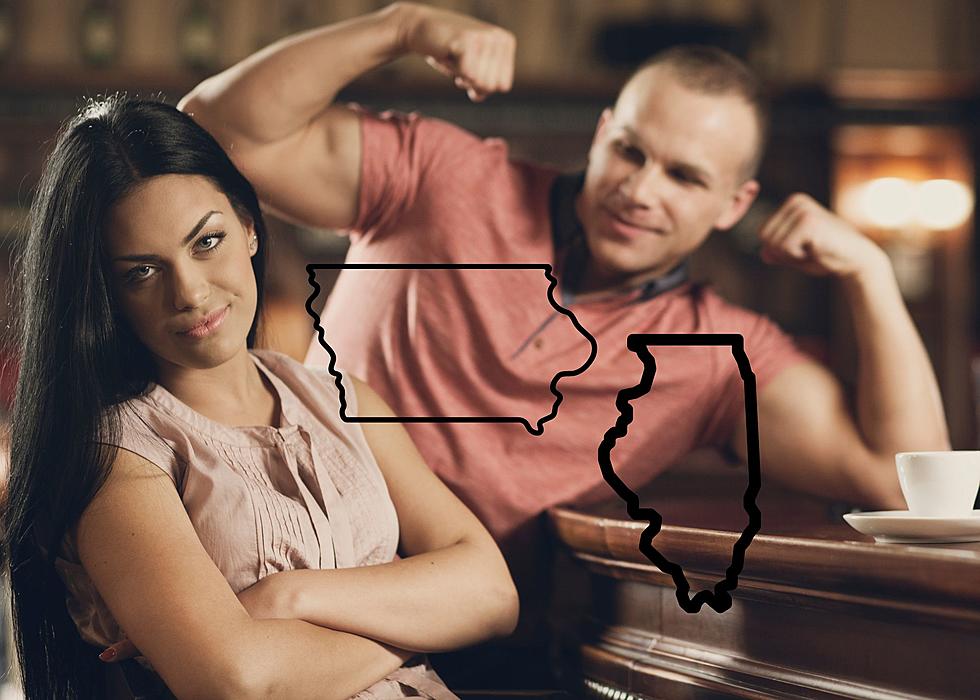 11 First Date Tips For Iowa And Illinois Men That Actually Work
Canva
Gents, let's discuss first dates for a moment, shall we?
I understand all too well that casual dating is actually purgatory. I've been on a litany of first dates lately and I'm slowly losing my mind it's become painfully clear that there are basics of first-date etiquette that QCA guys just aren't familiar with. So to help the single folks we'll break down some advice from this bachelorette and my bachelorette bestie.
We've already talked about how to make your dating app profiles not suck. Now, congratulations, you've scored a date. Hopefully, you've decided on a creative activity for a first date that allows you to have fun since a date is really like a movie trailer for yourself that you get to create. Now guys, let's talk about what to do if you don't want to screw it up.
11. Dress Decent
Guys, you don't have to wear a sportcoat or a 3-piece suit. But unless the date activity is active, don't wear sweats either. It's a sign of respect to the date to dress presentable.
10. 'Feel, Felt, Found' Conversation Method
You'll invariably have awkward pauses in first dates. Don't let them freak you out. Ask your date open-ended questions and guide the conversation with the 'feel, felt, found' method (it's a conversation tactic, get ya heads out of the gutters). For that method, you just touch on different subjects: shows, hobbies, travels, a typical weekend for them, etc. until you land on the thing or experience that makes their eyes light up. People love talking about themselves.
9. And Actively Listen To Your Date's Response (For The Love Of God, Don't Forget Her Name)
No joke, a first date recently forgot my name as soon as he walked in and it absolutely set the tone for the rest of the date. We can always tell when a guy isn't fully present with us. Spoiler alert: it won't end well for you.
8. Carry Yourself Well
Shoulders back, head level, chest up. Even if you're as nervous as a turkey at Thanksgiving, you can definitely fake it 'til you make it. Too many times I've been out with guys who fidget with the menu or the napkin or can't sit still and they didn't get additional dates.
7. Don't Offer Her Your Snap
It's not the flirt you think it is. If we want it, we'll ask.
6. Authenticity Will Always Beat Bravado
Remember the Shania Twain bop "That Don't Impress Me Much"? She's not wrong. Guys, we're not on a date with you to be impressed. We're here because we want to get to know you. We know when you're blowing smoke and it will turn us off so quickly.
5. Phone Down
Let's be real: we all pay attention to where our dates put their phones. The ideal spot is wherever you won't check it every 37 seconds.
4. Eye Contact Is Your Best Friend
Your date isn't terrible to look at and you can make her feel appreciated by something as menial as eye contact. If you don't make eye contact, it can translate to her as being seedy.
3. Compliment Your Date
Even if you're sweating bullets, a compliment can help hide that.
2. Pick Up The Check
Unless it's been predetermined that she's fine to split the bill, you should definitely pay for it if you want a second date.
1. Be Yourself
She's on this date to get to know you. Whatever you present to her in the course of the date, be it forward, shy, sleazy, jubilant, or anything in between, is what she will remember you as. You don't have to have a sharp wit and humor, look like an Adonis, or have a high-paying job. But you should have fun with her and be yourself.
And gents, I think all ladies can agree that waiting to follow-up after the first date is not actually a thing. If you like us, you can text us the next day.
Top 20 Surprising Facts You Didn't Know About Iowa
With all these interesting facts about Iowa, it's hard not to develop a newfound appreciation for the state. From their technological, medical, and environmental advancements, Iowa is leading the way in many fields and has a bright future.
Top 12 Things People Never Thought They'd Do as Adults
No one could have ever imagined that they would be doing any of these things when they were growing up. As a younger individual, you probably never wanted to go to bed early and thought you'd be a night owl all of your life, but as you grew up you started to fall into the habit of going to bed early. Many things affect our daily life as we grow up and cause us to change our habits.
Here is a list of 12 things people never thought they would do as adults, but ended up doing anyway.