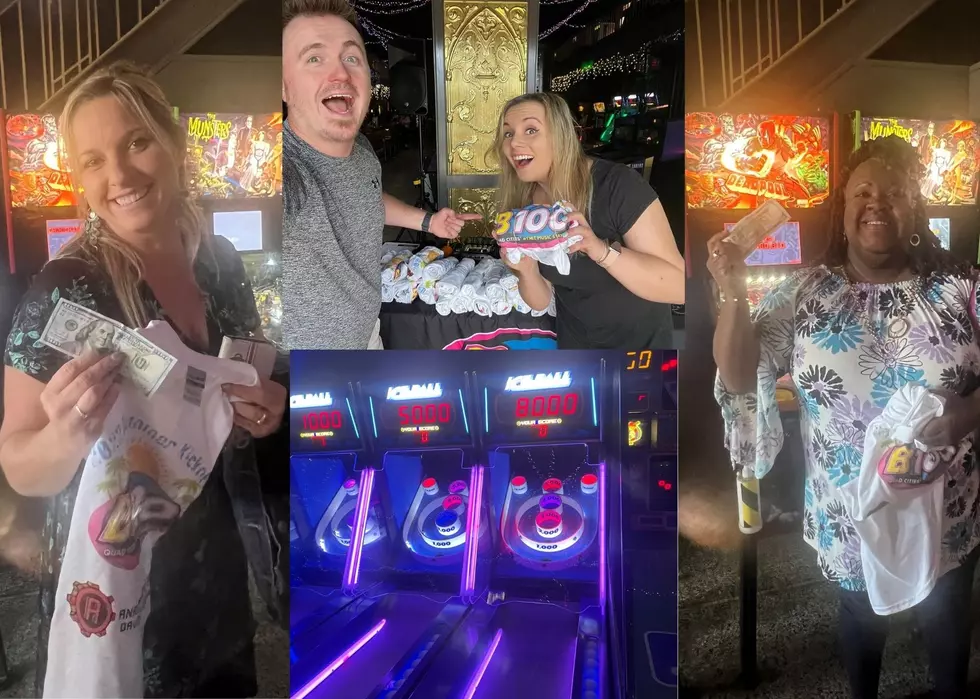 Thanks For Kicking Off Summer With B100 at Analog Moline
Sarah Stringer
Legend has it that if you mix arcade games, Lopiez pizza, and prizes then a B100 Summer Kickoff will appear!
Thank you to everyone who joined us for the B100 Summer Kickoff at Analog II/Lopiez Pizza in Moline on Saturday! Everyone was a winner and five lucky folks unrolled their spiffy new teeshirts to find a $100 bill. Perfect to use towards some Analog tokens, drinks, and Lopiez slices.
Connor & I had so much fun chatting with you and playing your favorite songs. I loved taking you up on Skeeball challenges! We can officially declare that the B100 Days of Summer has begun. Time to jump in a pool.
Scroll down to see the pics from the event! If you're feeling serious FOMO at the moment from missing out on the Analog adventure, you still have plenty of opps to party and win with B100.
Winning is as easy as 1, 2, 3. Want free fun cards to the Mississippi Valley Fair? Connor and I have your chance for that and many other prizes in the B100 Days of Summer. Click the link for more details!
The 2022 Moonlight Chase. Ready set GLOW! Put on your best glow gear and head out to Eldridge on July 9th. You could win cash from B100 & The Play Station. (I don't know why I agreed to train to run this race) but join me on the trail if you're a runner. If you're not, you can totally walk it in your glowy gear and hang out with B100!
Download the B100 app to keep up with the latest giveaways and events we have going on so you don't have to miss anything else!
Thanks For Kicking Off Summer With B100 at Analog Moline
B100's 2022 Summer Kickoff was one for the books! Pizza, drinks, arcade games, and winners!
2022's Top 5 Favorite Places To Get Ice Cream In The Quad Cities
We asked where is your favorite place to get ice cream in the Quad Cities. A lot of you answered and we tallied up the answers. These are 2022's top 5 favorite places to get ice cream in the Quad Cities.
See The Renderings for Downtown Rock Island's Beautiful Arts Alley
Downtown Rock Island's Arts Alley is set for a facelift later this year. See what they have in mind!