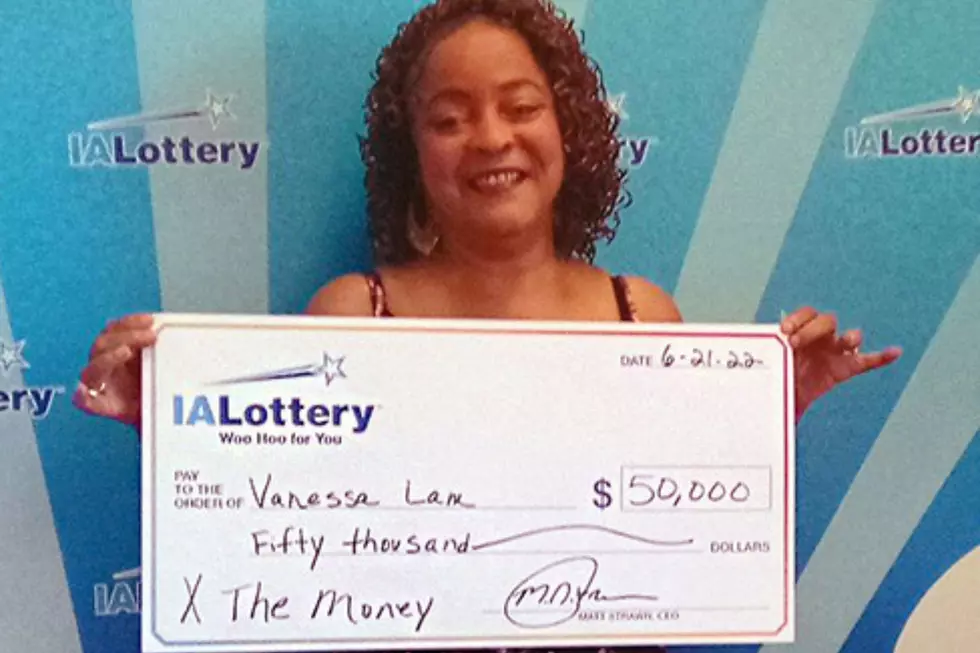 Bettendorf Woman Wins $50,000 With Iowa Lottery Scratch-Off Ticket
Iowa Lottery
The Quad Cities is the place to win money right now. We've had a lot of Quad Citizens win in the month of June and there is another winner to add to that list. A woman from Bettendorf won herself $50,000 with a scratch-off ticket.
A woman in Bettendorf is very happy after she scratched a winning ticket with the Iowa Lottery. Last week, the Iowa Lottery announced that Vanessa Lam of Bettendorf won the third top prize in the Iowa Lottery's "X The Money" scratch game. The top prize is worth $50,000.
Lam bought her winning ticket at EZ Stop, 2923 Brady St. in Davenport. She claimed her prize Tuesday at the lottery's Cedar Rapids regional office.
The Iowa Lottery says that X The Money is a $5 scratch game that features eight top prizes of $50,000 and overall odds of 1 in 3.27. Congrats to Vanessa on being the 5th person from the Quad Cities to win this month!
This month, there have been four major winners in the Quad Cities. Earlier this month, Davenport had not one but two lottery winners. Christine Sanders won $50,000 (she got her ticket at Express Lane Gas & Food Mart on North Harrison) and Mason Brower won $30,000 (he got his ticket at W Mart on East Locust).
On June 14th, we told you about a Rryan Claussen of Eldridge who won $100,000 on a scratch-off ticket when he was on a road trip with his dad. He bought that winning ticket at Casey's (1800 S. B Ave.) in Nevada.
The next day, Jean Miller from Davenport won $50,000 from the lottery's "Power Shot" scratch game. She got the winning ticket at Kwik Star at 13888 118th Ave.
Add Vanessa of Bettendorf to the growing list of winners with the Iowa Lottery! For more information about lottery games and to see more winners, visit the Iowa Lottery's website.
Here Are QCA Restaurants You Can Take Your Dog To This Summer
Several restaurants in the QCA allow for puppers on their property. Scroll down to see a few!
20 Things To Do On The 4th Of July In The Quad Cities Area
July 4th weekend is always packed with activities every family can take part in. But if don't have anything specifically planned and you're looking for some fun things you and the family can do for the 4th of July, you're in luck! We've rounded up some awesome Quad Cities Events to help you celebrate America's birthday.