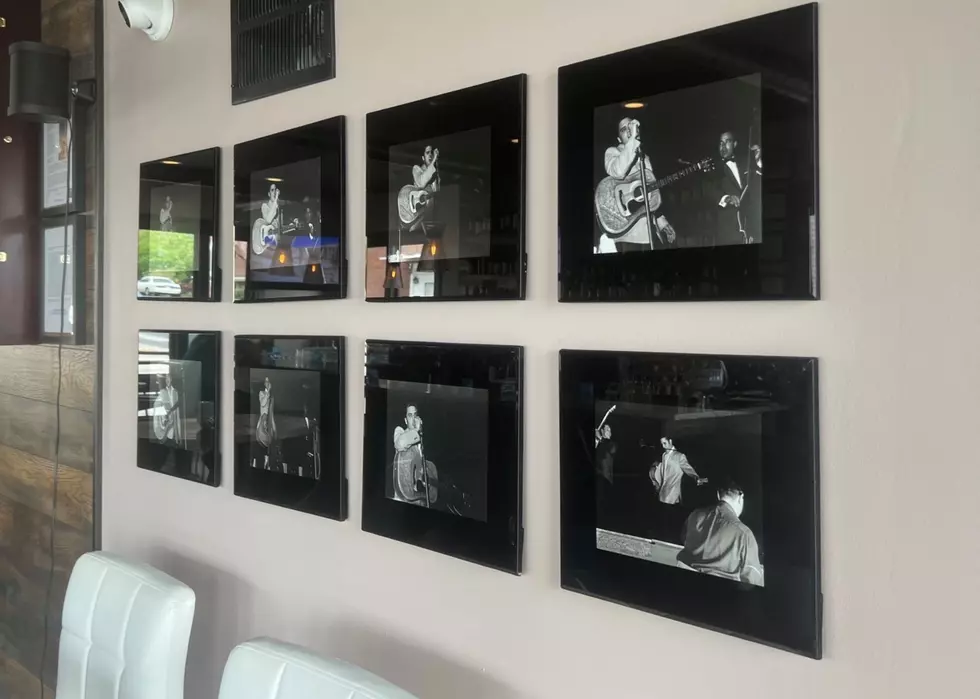 The QCA Classy Elvis Cocktail Bar You Didn't Know About
Sarah Stringer
The new "Elvis" biopic is out and a downtown Port Byron cocktail bar was born ready for this.
Being an Arkansas river delta kid from only an hour outside of Memphis, I went to Elvis Presley's Graceland a gazillion times growing up. I'm versed in blues, barbecue, and the King, so I had to make sure Baz Luhrmann's new "Elvis" biopic got it right (it did, by the way, it's fantastic).
Before I headed to the theatre, I took a little jaunt to Blue Suede Cocktails & Coffee in downtown Port Byron. Having opened just last year, the cocktail bar matches a modern theme with Elvis decor. But it's not cheesy Elvis decor like you might see in a basic diner. It has the original sheet music to "Blue Suede Shoes" from one of Elvis' band members (marked up, as a good musician does). It has an original guitar, and black and white photos of Elvis beside an enclosed fireplace. It's just very unique.
Their menu is of course themed on Elvis' songs. I had the Jailhouse Rock coffee, iced (white chocolate & salted caramel), and an Elvis shot (peanut butter + banana liqueur). For bar snackage, they have chips and salsa (or queso), a s'mores charcuterie, and a meat and cheese board.
Blue Suede is about a 27-minute drive from Davenport and it has a river deck you can look out on. Scroll down to see pics of the bar! Meanwhile, for more details and the latest on specials, check out Blue Suede Cocktails & Coffee on Facebook.
The QCA Classy Elvis Cocktail Bar You Didn't Know About
Meet Blue Suede Cocktails & Coffee in Port Byron!
20 Things To Do On The 4th Of July In The Quad Cities Area
July 4th weekend is always packed with activities every family can take part in. But if don't have anything specifically planned and you're looking for some fun things you and the family can do for the 4th of July, you're in luck! We've rounded up some awesome Quad Cities Events to help you celebrate America's birthday.
You Can Stay In These Unique, Cool Airbnb's Close To The QC
Both air travel and gas are expensive this summer but we still have the travel bug this time of the year! Here are a few Insta-worthy places near to the QC that you can check out this summer.