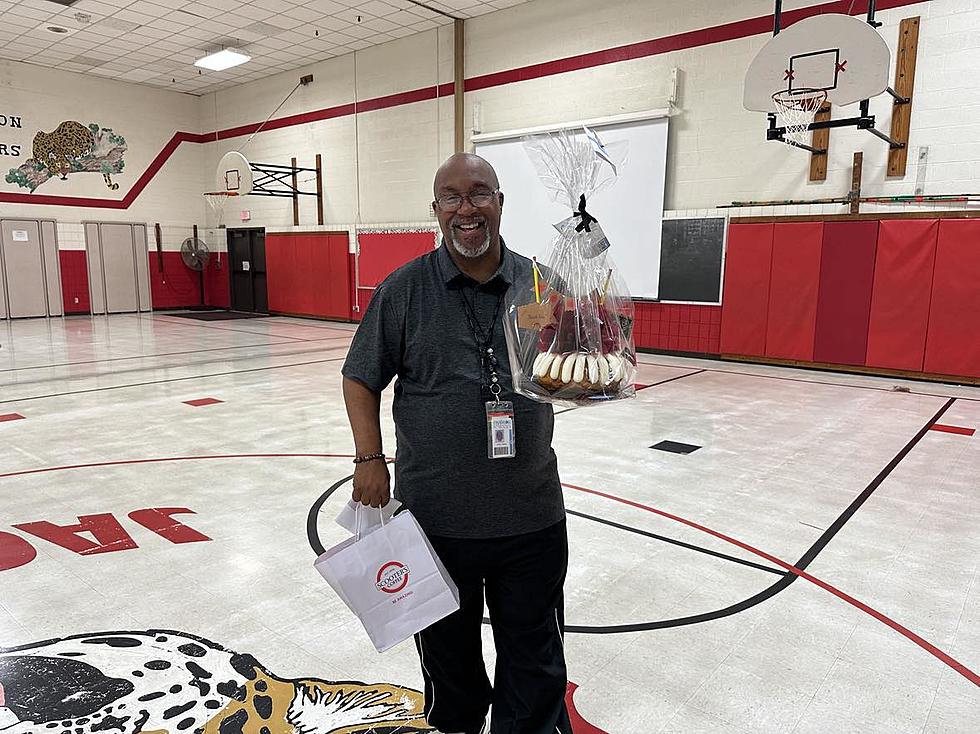 Davenport Teacher Is Humbled & Honored For Getting Awesome Award
QC Teacher of the Week Fall 2023
It's the Fall 2023 semester and we are heading out to schools with our awesome program with Nothing Bundt Cakes and Scooter's Coffee to honor and reward our awesome Quad Cities teachers and educators. It's called QC Teacher of the Week and we are so excited to announce this week's teacher of the week!
It's now time to announce this week's B100, Nothing Bundt Cakes, and Scooter's Coffee's QC Teacher of the Week!
Congrats go to Tyrone Jones, the physical education teacher at Jackson Elementary in Davenport!
Jaylee DeLancey nominated Mr. Jones for this award. Get the tissues ready because it's so sweet!
I am nominating Tyrone Jones for QC Teacher of the Week. Mr. Jones teaches PE at Jackson Elementary in Davenport. He is the best teacher because he genuinely cares about every single student who walks thru the doors. He goes above and beyond to make a connection and build a relationship with the student. He gave his heart to Monroe Elementary and was basically superman taking care of all the kids. After Monroe sadly closed, now Jackson Elementary is so lucky to have him as their PE teacher! Mr. Jones is an amazing role model for all students and he is an excellent source of knowledge and support. I hope that I can be as awesome and influential of a teacher as Mr. Jones is!!!
Mr. Jones was humbled and honored to win this award.  Awesome job, Mr. Jones!
For being our QC Teacher of the Week, Mr. Jones has been rewarded with a B100 Prize Pack including stickers, koozies, and more, plus an awesome cake from Nothing Bundt Cakes and a cup and gift card from Scooter's Coffee!
Thank you for your hard work and dedication, Mr. Jones!
To nominate your favorite teacher for QC Teacher of the Week, click the button below:
NOMINATE: QC Teacher of the Week
Congrats to all of our Fall 2023 semester QC Teachers of the Week!
Quad Cities Pumpkin Patches
It's pumpkin pickin' time in the Quad Cities. Pumpkins make great fall decorations and they are obviously fun to carve. If buying a pumpkin at a store doesn't cut it and you want the full experience of a pumpkin patch, we have the full list of pumpkin patches throughout the Quad Cities. If we are missing any local pumpkin patches,
email us here.
LOOK: Most commonly seen birds in Iowa
Stacker
compiled a list of the most common birds seen in Iowa from Project FeederWatch.