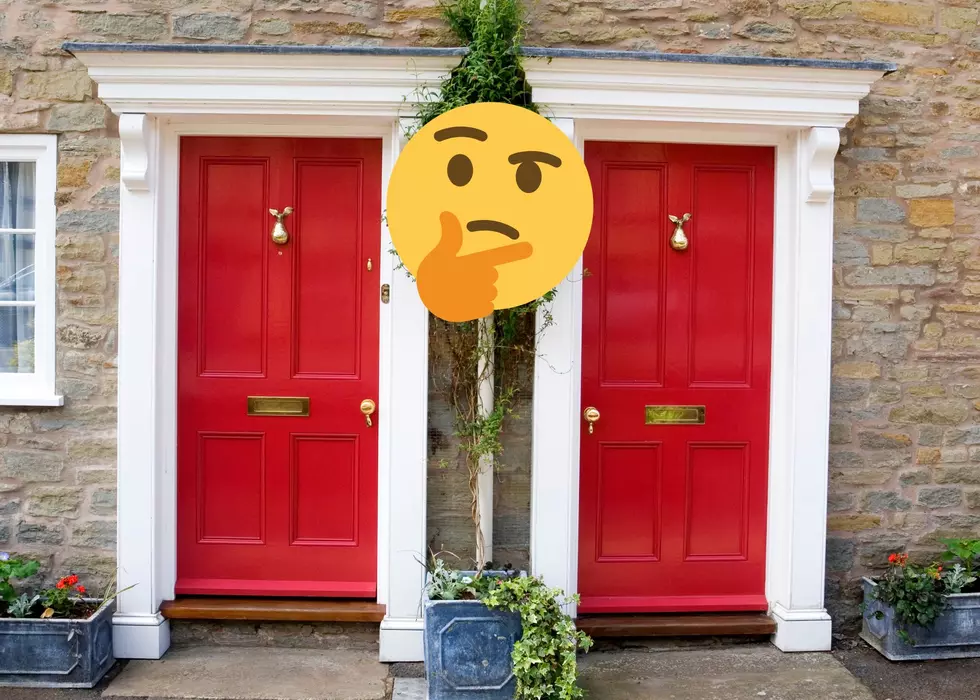 If You See A House With Two Front Doors In Iowa, Here's What It Means
Canva
You may think two front doors close to each other signify a duplex or a multi-family home, right? Not necessarily.
You might see homes with two front doors in older parts of the country. It's a building style called 'dogtrot' and in fact, the oldest home in Iowa (which is an 1820's log cabin in Dubuque) was built in the style.
So say you're on the search for a new house. You find this one.
It's not two different apartments or living spaces...so why does it have two doors?
The Uniquely Historical Reasons
Houses built in the dogtrot style, according to The Spruce, were generally made of wood, had a wide open breezeway, were one story, symmetrical, and were a cottage or farmhouse in a rural location. They're generally just 1,300 sq ft. or less. There's been a lot of reasons suggested as to why they put two front doors on these homes but here are a few. And some of them are a thinker.
Glass Didn't Travel Well
Before the QC became a hub for rail travel and would help transport things like glass windows to rural homes, it was a pain to try to get glass for a window from a pattern book. Because of that, doors with windows were more expensive than doors without.
Functional Separation
The Spruce also says that one reason for separate doors might be because the roles of the household were different. The Master & Mistress of the House might have wanted the front doors to enter into different rooms.
There's A Status Thing
Hired help might use the door to the left, while residents use the other door. For homes that didn't have servants, one door might enter a formal parlor while the other went into a less formal area.
There was also some social hierarchy there. If your neighbor has one door, why shouldn't you have two? The Spruce says that having more than one room was a sign of prosperity for the American pioneer class. Kind of the old-school version of how many realtors build up the number of garage doors in a house.
The Death Door
Go with me on this: one reason that two front doors were thought to be a thing is because one door was to be reserved for the dead, who would be lying in repose in the front parlor. The only purpose of the other door would be for that soul to leave Earth.
Smoke Space
It's often believed that having more than one door allowed gentlemen to step outside and smoke a cigarette in a designated spot. The other door might enter the nonsmoking parlor.
and finally...A Fire Exit
Remember all of these homes were built out of wood?
There's not much practicality to these homes anymore but you might see a few of them pop up in your Iowa travels!
Where The Buffalo Roam: This Iowa VRBO Western Cabin Is On A Buffalo Ranch
You Can Book These Adorable Cabins In Starved Rock State Park
Getaway, a chain of cabins, has opened up an outpost in Starved Rock State Park. See the pics of the cabins!