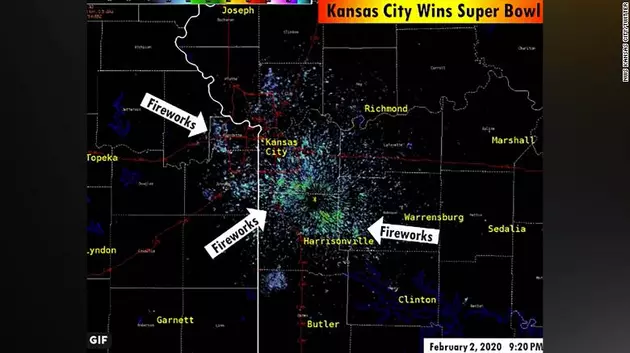 Kansas City's Celebration Could Be Seen On Weather Radar
Kansas City National Weather Service/CNN
50 years. That is how long the city of Kansas City had been waiting for the Vince Lombardi Trophy to come back. Last night, the Chiefs became World Champions and the celebration back in Missouri could be seen on the weather radar.
According to CNN, the fireworks could be seen as far South as Clinton and Butler, Missouri, which are roughly an hour long drive away from the home stadium of the Chiefs, Arrowhead Stadium. Even though the Chiefs play in Kansas City, Missouri, the fireworks were going off just as much in the neighboring state of Kansas.
CNN interviewed Karen Diaz, who lives in an apartment close to Kansas City's Union Station. She post the photo below on Instagram and mentioned she went to bed around midnight with the partying not even coming close to stopping.
The city and the Chiefs will have another opportunity to celebrate on Wednesday. That is when the city will hold the victory parade to welcome home Super Bowl LIV champions Kansas City Chiefs, and the Vince Lombardi Trophy.
For photos of the Pepsi Super Bowl halftime show featuring Jennifer Lopez and Shakira, click here.
Enter your number to get our free mobile app