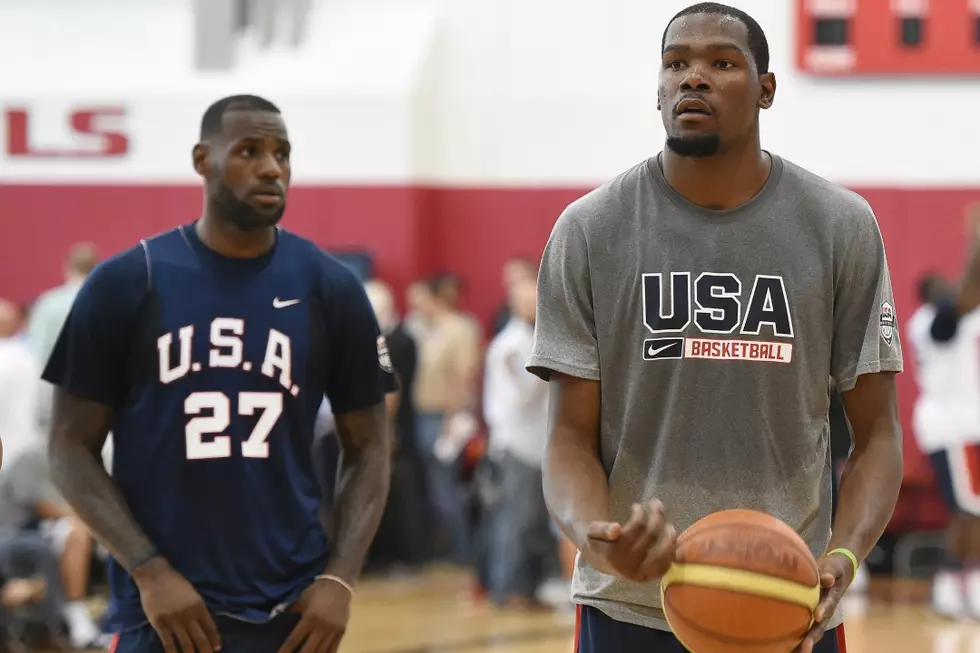 LeBron James and Kevin Durant Once Made a Rap Song Together
Ethan Miller, Getty Images
LeBron James and Kevin Durant are currently battling it out on the court as their teams play each other in the NBA Finals, but it looks like they were once a team together back in 2011 when they reportedly hopped in the studio together. According to ESPN, the Cleveland Cavaliers veteran and Golden State Warriors baller once recorded a rap record together, and sources are coming forward to detail how the two made the track.
Reports say the two used to work out together at James' house in Akron, Ohio back in 2011 during the NBA lockout, when one day they hit up the studio to record the unreleased rap song, as the two are already big hip-hop fans. League sources told ESPN the two made the song while King James was playing for the Miami Heat and Durant was a rising star on the OKC Thunder squad. One source says the song finds KD on the first verse, LBJ on the second verse, and then Durant coming on again for the last verse.
Reports also say Kevin produces in his spare time, and was the one who allegedly produced the beat for the song. While the record's title has not been revealed, nor has any theme, another source says it's "a quality track" and even said the lyrics were "surprisingly well-crafted and delivered."
Agent Eric Goodwin, who executive produced the film Thunderstruck in 2012 that stars Durant, even commented on hearing the track at the time.
"I heard the track years ago during post-production for Thunderstruck. It was very good. I suggested submitting it to Warner Brothers for the movie soundtrack, but KD wanted to keep it private," Goodwin said of the song.
Durant and James are far from the first NBA stars to hit up the studio to create a rap song, as it's previously been done by Shaq, Kobe Bryant and many more. Hopefully we get to hear the song one day.
20 of Your Favorite Rappers Naming Their Favorite Rappers