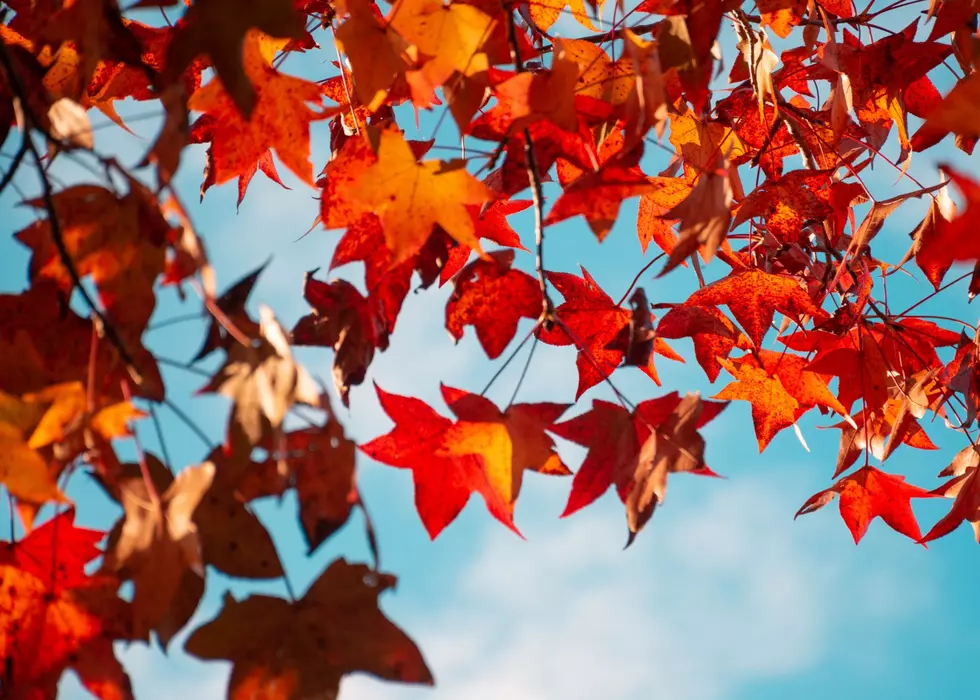 Here's When You Can See Bright Fall Foliage In Iowa, Illinois, & Wisconsin This Year
Unsplash
Summer is behind us and we're not far away from peak fall foliage season here in the Midwest.
Iowa
The Iowa Department of Natural Resources says that peak fall colors generally happen the weekend closest to October 10th. It's about the last week of September to the second week of October.
Here's their breakdown of it:
As you can tell from the map, the further south you go in the state, the later the peak foliage gets. In Scott County, we're right on the cusp of the last two categories so we'll likely see peak colors at some point in October.
It could be really pretty this year. Droughts can prevent colorful leaves in the fall but State Climatologist Justin Glisan told Axios that our recent rains may have prevented that.
Illinois
Illinois fall colors aren't expected to pop up until the second week of October at the earliest. According to Patch, the forecast for this year says that you'll be able to see some partial fall foliage in the very north part of the state at the Wisconsin border beginning around October 10th. Sound familiar?
EnjoyIllinois.Com has this map from last year's season:
The Chicago area is expected to peak around Halloween.
Wisconsin
Wisconsin's earliest peak fall colors are expected to be the first week of October in the northern part of the state. Travel Wisconsin has this handy map that allows you to keep track of how much the fall colors are progressing in their counties.
What's What
If you're not super familiar with trees, here's your list of what tree is what color when you see the pretty leaves as you're out and about.
Walnut (yellow)
Red Oak (red, obviously)
White Oak (red)
Bur Oak (buff to yellow)
Hickory (yellow)
Ash (yellow, some might have a purple tint)
Elms (yellow)
Soft Maple (yellow)
Hard Maple (bright red)
Sumac (red. This is a small tree found at openings and edges, according to the Iowa DNR.)
Virginia Creeper (bright red)
So plan your road trips now! If you're just itching to see bright fall colors right away, you'll want to go up to the northern areas in a few weeks. Otherwise, it's only about a month until we'll see them in the QC.
10 Household Tasks To Get Your Home Ready For The Fall Season
When September hits I'd like to think the world divides into two. One half is clinging on to summer with everything they have, while the other half is already starting to put pumpkins around their house and watching scary movies by the fireplace.
Although the official first day of fall is September 22, many people like to start fall traditions early as it excites them and brings them that warm fuzzy feeling. As the days become shorter and the weather changes there are tasks to be done when being a homeowner. Not only does one's mindset change as the seasons do, but the chores around the house change as well.
Now that the seasons are changing it is time to start preparing your home for the weather to come. We have gathered some important fall home maintenance tasks to get you and your home ready for the chilly season.
Here are 10 ways to get your home ready for fall.
Old Elementary School Turned into "Old School Pizza"
You've never seen a school this cool!