No Way These Fast Food Places Are Iowa's & Iowa State's Favorites
Google View
Apparently, today is the day when all of these ridiculous studies come out that are just insanely incorrect. If you've gone to college or visited your friends in college, you know where you would get late-night drunk food at. 99.9999% of the time it was a fast food chain because it was cheap and tastier AF. A new study shows the Top Public U.S. Colleges' favorite fast-food chain and the two picked for the University of Iowa and Iowa State are 1,000% not true.
The website Broke Scholar decided to conduct a study to name the 144 Top Public U.S. Colleges' top fast-food restaurants. To do so, they utilized a combination of Yelp data and the U.S. News ranking of Top Public U.S. Colleges.
You can find out how Broke Scholar got to 144 colleges here, but selecting the most popular fast-food places for each college really throws me for a loop.
Broke Scholar collected a list of fast-food establishments listed and rated on Yelp within a 2-mile radius of the university address. A 2-mile radius is walking distance essentially but most people have cars, friends with cars, a bike, or can take the bus. The 2-mile radius thing pisses me off and I'll tell you why here shortly.
The people at Broke Scholar divided these fast-food restaurants into national, regional, and local categories and removed any restaurants with less than 10 reviews. The most popular fast-food chain was chosen based on what place had the highest rating. If there was a tie, the restaurant with the most reviews was selected as the number one most popular.
Broke Scholar determined that the University of Iowa's favorite fast-food chain is Pita Pit and Iowa State's favorite is Blaze Pizza. This is 100% wrong.
You may be asking the question, "how is this incorrect? They have the data!" Let me tell you.
As a University of Northern Iowa alumni, friends with people who went to Iowa State and Iowa, and a former DJ at an 18+ college bar, I can tell you there is no way people right now or ever went to Pita Pit or to Blaze Pizza after beers out at the bar. There is also no way that any college person with zero money could afford Pita Pit and Blaze Pizza consistently.
Remember when I said that the 2-mile radius thing pissed me off? Let me tell you why.
Pita Pit in Iowa City, the ONLY one left open is 2.3 miles away from the University of Iowa's address. They rounded down and said 2 miles but that's B.S.
In Ames, Blaze Pizza is .3 miles away from Iowa State. Even though it's close, there is no way it beats out the real fast-food chains that Cyclones and Hawkeyes call their favorite.
The Actual Favorite Fast-Food Chains For Iowa & Iowa State Students
The top three fast-food chains at BOTH Iowa and Iowa State are as follows:
Pancheros (founded in Iowa City)
McDonald's
Taco Bell
Kwik Star
I know, I said top three but Kwik Star is really an honorable mention. Those cheesy breadsticks and a tornado at 2:15 a.m. just hit differently.
Pancheros is superior to Chipolte (fight me), McDonald's is cheap and most locations are open 24/7, Taco Bell is also cheap and always open and a college student staple, and Kwik Star is just the best. Expect their pizza. Casey's wins there.
Here are Midwest college town's "favorite" fast-food chains: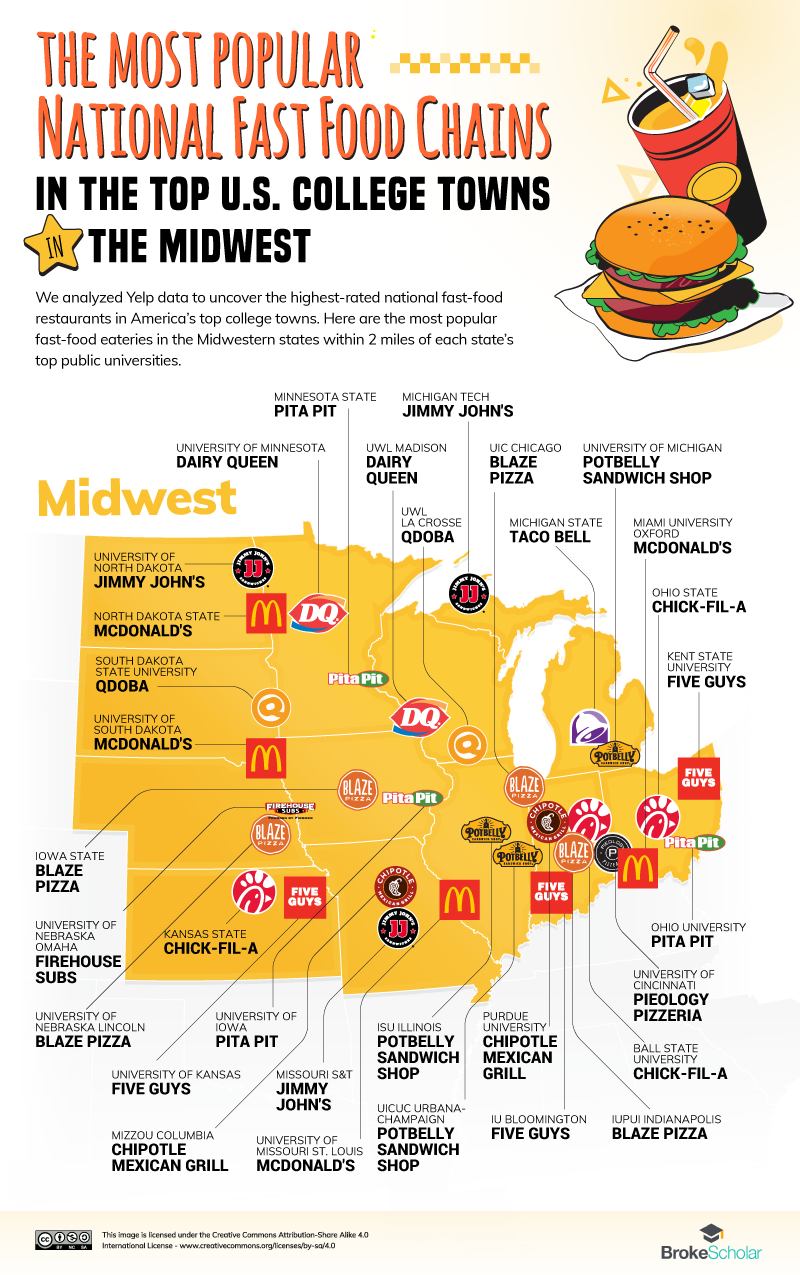 You can see the ridiculous incorrect results from this study by Broke Scholar in the graphic below.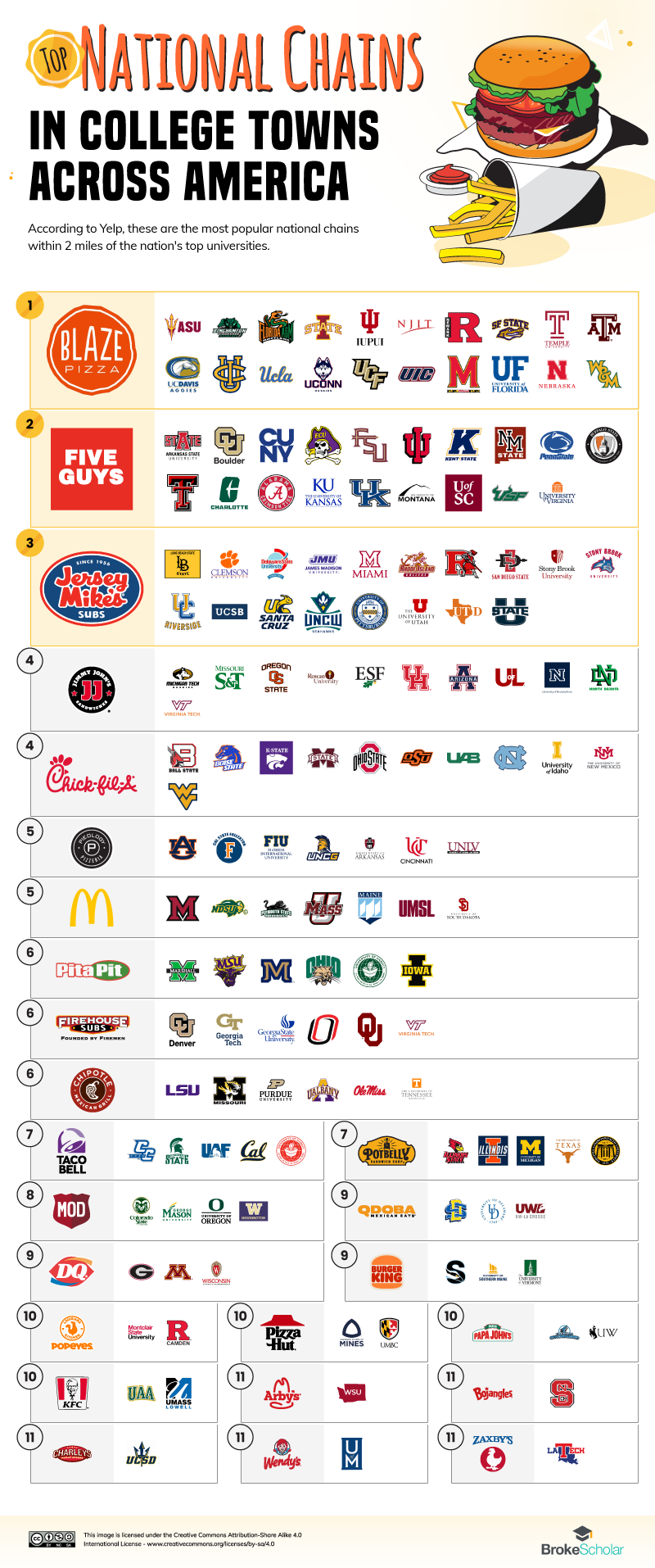 The 20 Best Meals In The Quad Cities
Are you one of those people who know they want something to eat, but don't know exactly WHAT you want to eat? You know you don't want to stay home and cook, and you know you want to go out to a restaurant, but maybe you don't know exactly what you're craving. Where does one find good food in the Quad Cities?
WORRY NO MORE! We are here to help!
We asked a question on our Facebook page "What is the best meal in the Quad Cities" and many people shared their favorite restaurants and dishes in the comments. We have put together a list of the 20 Best Meals in the Quad Cities so that you can get out and try something new!
These restaurants are a place of good times, great food, and reasonable prices!
Check out all the restaurant's websites by clicking on the green wording!
Have fun scrolling!
100 Interesting Facts About The Quad Cities You May Or May Not Know
The Quad Cities is filled with a very rich history. From inventions to crossing the Mississippi River, to American Presidents and Walt Disney, there are many facts about the Quad Cities that many people do not know. While there are many more stories and facts to share about the Quad Cities, you'll find in these 100 facts that all roads, somehow, lead back to the Quad Cities.