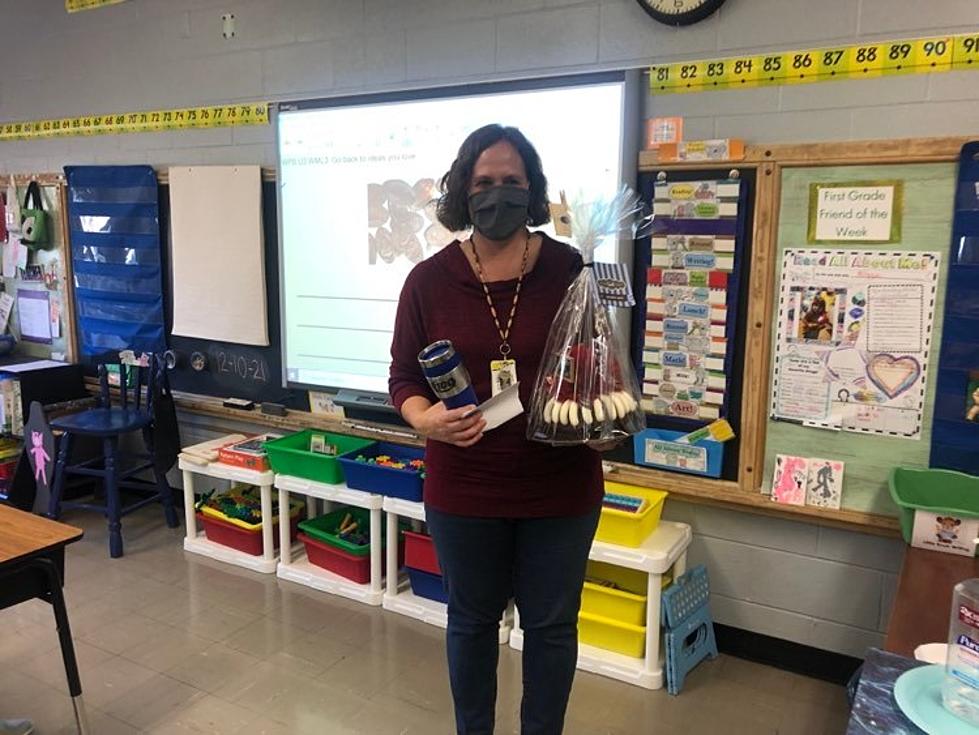 QC Teacher Of The Week: Marcia Wuest At Riverdale Elementary School
QC Teacher of the Week Fall 2021
To kickoff 2021-2022, we started back up our awesome program with Nothing Bundt Cakes to honor and reward our awesome Quad Cities teachers and educators. It's called QC Teacher of the Week and are so excited to announce this week's teacher of the week!
It's now time to announce this week's B100 and Nothing Bundt Cakes QC Teacher of the Week!
Congrats go to Ms. Marcia Wuest, who is a 1st-grade teacher at Riverdale Elementary School in Port Byron!
Ms. Wuest was nominated by Alyssa Tracy. Alyssa said,
I would like to nominate, Ms. Marcia Wuest. She teaches 1st grade at Riverdale Elementary school in port Byron, Illinois.

The reason I would like to nominate her is because she has always went above and beyond for both my children. She had my daughter 2 years ago, and currently is my son's teacher. She always makes herself available both while teaching and after hours.

She help me get both my children diagnosed with ADHD, and is so understanding. We are in a small community and when my daughter invited her to watch her play soccer she came.

My kids know they can trust her, and always talks highly about her. If I ask for suggestions on how to help to one of my kids, she will always respond even when she wasn't a current teacher for one my children. My kids have been blessed with good teachers around, she will always stand out as the best.
Awesome job Ms. Wuest! For being our QC Teacher of the Week, Ms. Wuest has been rewarded with a B100 Prize Pack which included a B100 stocking cap, stickers, a Pepsi, a B100 Bluetooth speaker, and more things, plus an awesome cake from Nothing Bundt Cakes! 
Thank you for your hard work and dedication, Ms. Wuest!
To nominate your favorite teacher for QC Teacher of the Week, click the button below:
NOMINATE: QC Teacher of the Week
Congrats to all of our Fall semester QC Teachers of the Week of 2021!
100 Interesting Facts About The Quad Cities You May Or May Not Know
The Quad Cities is filled with a very rich history. From inventions to crossing the Mississippi River, to American Presidents and Walt Disney, there are many facts about the Quad Cities that many people do not know. While there are many more stories and facts to share about the Quad Cities, you'll find in these 100 facts that all roads, somehow, lead back to the Quad Cities.
QC Teachers of the Week Powered by Nothing Bundt Cakes Spring 2021
Spring 2021 brought a lot of smiles to teachers throughout the Quad Cities. Even though students, teachers, parents, and staff had a tough year due to the pandemic, we still had a chance to get out and award amazing teachers with a cake and swag for being QC Teacher of the Week.