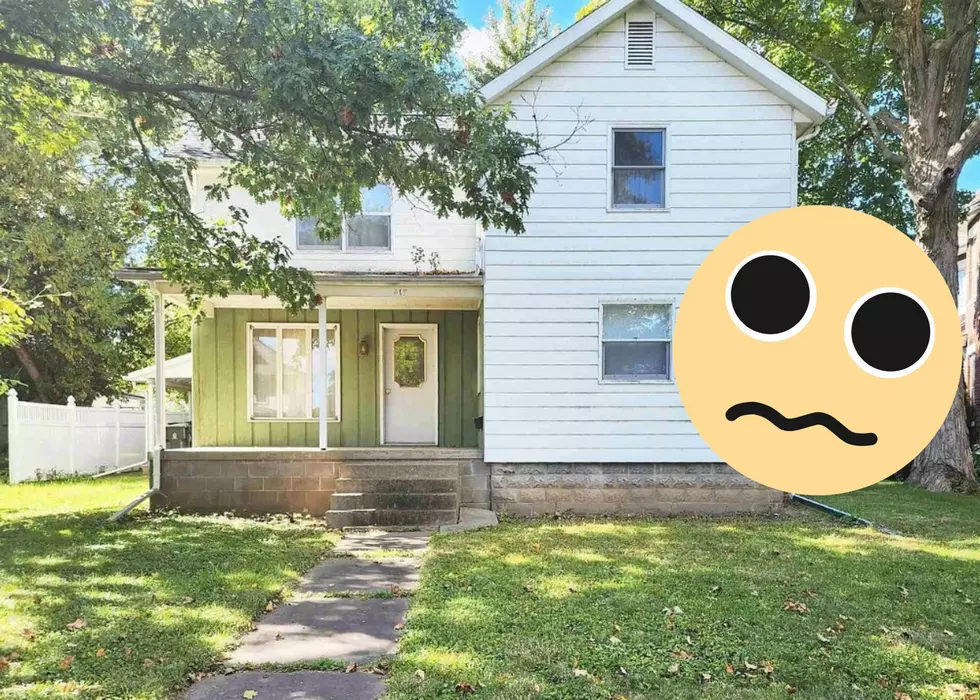 This Geneseo Home Is A "Nightmare On Zillow Street" And Wait Until You See Why
RMLSA/Zillow
A fixer-upper Geneseo home has some stories to tell.
Up for sale on Zillow is a home at 413 N. College Ave. in Geneseo. It was featured in the 'Nightmare on Zillow Street' Facebook group, which looks at the worst houses you can buy on Zillow.
The Geneseo home on Zillow is a fixer-upper that looks like somebody tried to fix parts of, but couldn't get it all done.. It's a 5 bed, 3 bath, 2,528 sq. ft. and everything in it looks old as the hills, which isn't surprising since the house was built in 1907. It has no cooling, forced air, and natural gas. It has a garage that will fit a couple of cars and the home can be yours for a good value at $80,000.
At First, It Looks Fine
At first glance, the house doesn't look suspicious. Just old.
Even the interior of the main entryway and living area look dated with orange floral curtains and wood finishes on every single surface.  But, not that bad.
Then Things Go Horribly, Horribly Wrong.
The Facebook comments on it in the 'Nightmares On Zillow Street' capture it in the following ways:
This is definitely one of those where you're like, "Hey, this isn't too ba....baaaad this is really really bad!"

 
Hoarder home that's only halfway flipped. I'm sure there was 3 feet of schmaltz in there

 
It Just Gets More And More...
It's a five-bedroom house and not one of the bedrooms has been fully redone.
(I'm not unconvinced that there wasn't an exorcism in that room)
I hate seeing hardwood floors not taken care of.
But nothing, nothing can prepare you for what is about to fall upon your eyes as you enter the bathrooms. And the ~decor~ is not just limited to one bathroom.
Are you ready for this?
You may need to shield young eyes.
...and definitely interior designer eyes.
The Ratchet Level Hits 100 In The Bathrooms With...
WARNING: GRAPHIC: Drumroll...
What in the Upside Down is this? 
However if you think the gross factor ends at the toilet, it doesn't. The rooms and even the back of the house need a lot of work.  But, if you are the handy type, maybe you can turn this into your home or a great flip. There is one part of the house that is quite clean and nice looking, just not where you would expect it.
Scroll down to see the rest of the rough rooms & bathrooms!
This Geneseo Home Is A "Nightmare On Zillow Street" And Wait Until You See Why
A Geneseo home on Zillow has some very interesting features. Would you buy it?
Quad City Haunted Houses
Spooky season is here Quad Cities! Haunted houses are open and we know you want to get your scare on. We have the full list of Quad City haunted houses you need to visit before Halloween.
You Can Be Literally High In This 420 Friendly Illinois Treehouse Airbnb
About two and a half hours away from the QC is a treehouse Airbnb that allows you to smoke legal cannabis.