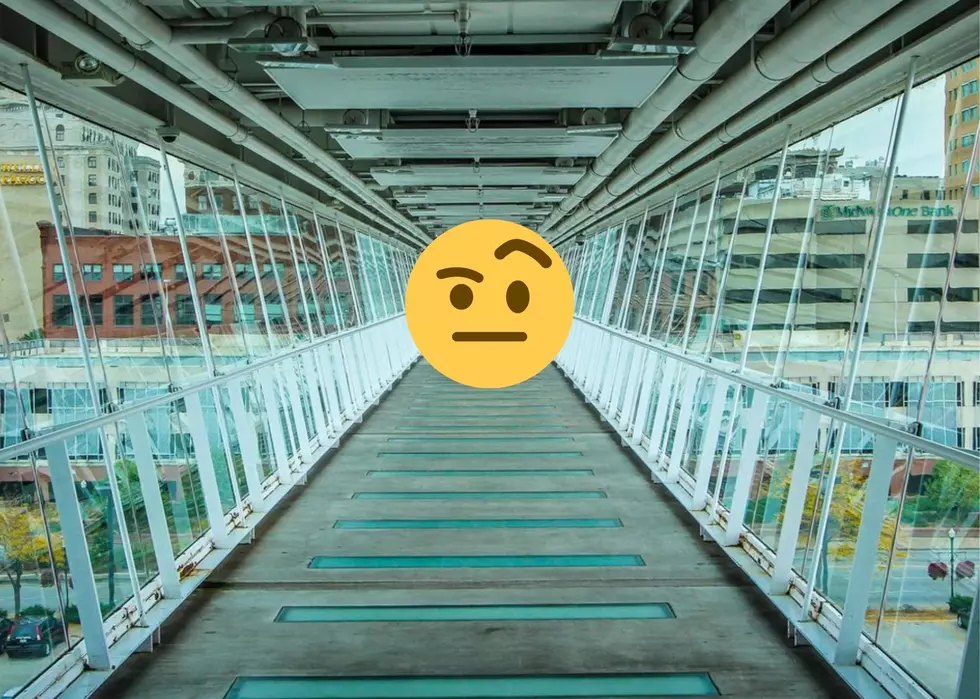 "Bridge To Nowhere": 8 Bad Online Reviews of Davenport's Skybridge
City of Davenport
A downtown Davenport staple is the skybridge and overall, it's very well-reviewed but there are a few holes people find.
TripAdvisor is where a lot of us go to find things to do in whatever place we're headed. I looked at Davenport's 'things to do' before I moved here in January. I've always thought the skybridge was really pretty and a lot of TripAdvisor reviews of it are positive. But I found 10 reviews that aren't so much on board. So here's what they said (the misspellings from some reviews are still there):
"Was once really nice when the casino was there. Now it just smells like pee"
"Was once really nice when the casino was there. Now it just smells like pee. Since the casino was removed the area is pretty empty. The bridge closes at a certain time and it smells like pee SO BAD! IT is not maintained anymore probably because it isnt visited as much anymore. I went in the winter months and was very sad to see the state it was in. So many memories growing up and spending time on bridge just to see it become uncared for."
"How do you get in?"
(From 2019): "Drive under this on River drive and have never found a marked entrance. Would love to see the flood waters from there." (In fairness, it took me a hot minute to find the entrance to the skybridge too.)
"The Bridge to Know Where"
"I can't remember if the then placed Casino was going to attach to it or if rumors of a hotel at the end were ever true(?). Everyone has dubbed it " The Bridge to Know Where". It does nothing, goes nowhere, serves absolutely no purpose.
If memory serves me someone who moved here then left had this idea. That's also how the 2nd oldest building in Iowa was torn down. But this Bridge, we all still laugh, dream up ideas for what should attach to the end, what's your idea?"
This Lady's Stinky Visit:
"I went to the sky bridge today it was not what i expected it was very dirty and did not smell well on the far end people had spit all over the windows going out on to the deck there where two spiderweb windows it looked like the city might be fixing them there was calking missing in some of the windows the elevators did not work right i had to take the stairs they actually would not move and as i went down the stairs i was greeted with the smell of defecation and urion kinda wondering if someone comes to clean at all??"
"Pretty but security needed"
"Visited Davenport for the first time last weekend. Decided to check this out as soon as we got out of the elevator we were waffed with the smell of marijuana. 5 skater kids with their skateboards up there just having a good time. View was pretty however the color was blue the whole time lights did not change"
"A Haven for the Homeless"
"This is not really a skybridge. It is about a 2 block long glass-enclosed walkway from a parking ramp to an empty lot. Evidently there used to be a casino riverboat tied up on the river that this walkway was supposed to entice people to use to head for the casino. Now that the casino is gone the walkway seems to be a spot for the homeless to gather.
It is nice that the city air conditions the enclosed space to make the conditions for the homeless more comfortable. Unfortunately there are no restrooms so the result is a significant urine odor. The homeless people did not cause us any issues. I do not know if the police ever patrol this structure.
If you are looking for river views there is a nice walkway about 200 yards east of the structure end."
"What is this?"
"This is literally a bridge to no where. It serves no purpose except a place for vandalism. You go walk across it and that's it it's pointless."
"Not very interesting"
"It is not clear what the purpose of this skybridge is.
The view is not so great and on the other side there is nothing attractive."
What do you think of the Davenport Skybridge? You can see the reviews of the skybridge on TripAdvisor here.
The Best Places To Watch Iowa Football Games
We have gathered 15 places around the Quad Cities where people LOVE to watch Iowa Football games. Many bars with owners that are Hawkeye fans have specials on game days. Cheaper beer, special dishes, and even free shots when Iowa scores a touchdown.
We asked listeners where their favorite place to watch Iowa football was, and here is what they suggested.
10 Household Tasks To Get Your Home Ready For The Fall Season
When September hits I'd like to think the world divides into two. One half is clinging on to summer with everything they have, while the other half is already starting to put pumpkins around their house and watching scary movies by the fireplace.
Although the official first day of fall is September 22, many people like to start fall traditions early as it excites them and brings them that warm fuzzy feeling. As the days become shorter and the weather changes there are tasks to be done when being a homeowner. Not only does one's mindset change as the seasons do, but the chores around the house change as well.
Now that the seasons are changing it is time to start preparing your home for the weather to come. We have gathered some important fall home maintenance tasks to get you and your home ready for the chilly season.
Here are 10 ways to get your home ready for fall.