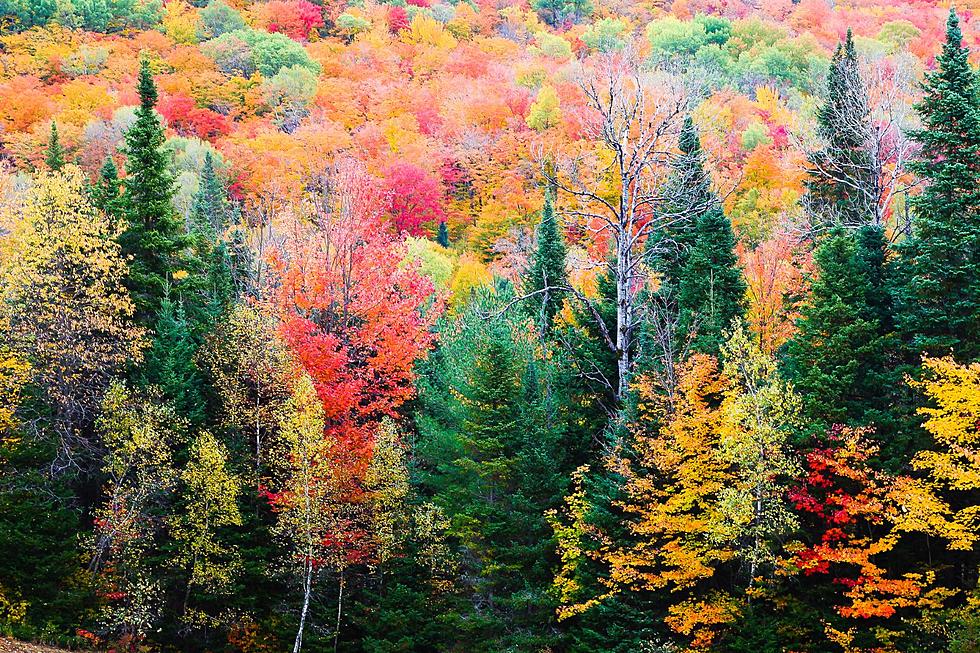 Iowa's Top Hidden Gem To See The Beautiful Fall Foliage
Canva
Fall is officially here and soon enough, we'll be watching the leaves go from green to beautiful red, yellow, orange, and brown colors. In Iowa, seeing the fall foliage is easy but finding the best place to do may require a little drive time.
Luckily for us, the best place to see Iowa's fall foliage isn't too far. It's a quick drive up the river to Dubuque to a park that will take your breath away.
Best Hidden Gems To See Fall Foliage In The U.S.
Fall foliage can be seen throughout the U.S. in many magical spots. Mixbook, a #1 rated photo book brand, carried out a survey of 3,000 respondents, asking them which under-the-radar destinations they would most like to visit to see fall foliage this year.
The top five hidden gems to see fall foliage in the U.S. are:
Sterling Forest State Park, New York
Porcupine Mountains Wilderness State Park, Michigan
Bear Creek Lake State Park, Virginia
Mount Greylock State Reservation, Massachusetts
Sunkhaze Meadows National Wildlife Refuge, Maine
There were three Iowa spots that made it on this list with one of them landing in the top 50 locations to see fall foliage in the U.S.
When Can You See Fall Foliage In Iowa
Great questions. Because trees don't just start changing colors all at once, you can see the fall foliage take place at different times in different sections of Iowa.
As you can see from the social media post from Travel Iowa, the fall foliage starts in northern Iowa this week normally and ends in southern towards the end of October.
In the Quad Cities, we'll see leaves starting to change colors at the start and middle of October.
Iowa's Hidden Gem To See The Fall Foliage The Best
Landing at #41 on Mixbook's list is the Mines of Spain Recreation Area in Dubuque.
The Iowa DNR describes the Mines Of Spain Recreational as being rich in history and natural resources. It's a National Historic Landmark waiting to be explored. Village sites, rock shelters, and trading post sites dot the landscape, and the area was once the location for lead mining until after the Civil War.
The Julien Dubuque Monument, honoring the area's first European settler, sits high above the Mississippi River and serves as a landmark for the Mines of Spain area. This state recreation area provides ample opportunity for visitors to explore a variety of trails and learn more about the history of the state.
Mixbook says this about the Mines Of Spain Recreational Area when it comes to seeing fall foliage:
"Tucked away from the busier destinations, this historic park reveals a stunning array of reds, oranges, and yellows amidst its rolling hills, lush woodlands, and historic structures. Its lesser-known status and serene ambiance offer a unique off-the-beaten-path opportunity for nature enthusiasts to immerse themselves in the vibrant colors of autumn, making Mines of Spain Recreation Area a tranquil and captivating destination for witnessing the changing seasons."
Don't sleep on the Mines Of Spain in Dubuque. It's a beautiful place to take in nature in all of its glory.
This Missouri Prison For Sale Makes For A Great Home
Looking for a unique property? Look no further than this newly listed jail on
Zillow Gone Wild
. Featuring concrete walls, 34 cells, and 2 levels, this jail offers plenty of space to customize the property of your dreams. Whether you're looking for a starter home or a large property to house your friends and family, this jail is sure to suit your needs.
County Cass County
Address 208 W Pearl Street, Harrisonville, Missouri
Zip 64701
Year Built 1960
Price $195,000
Lot Size 0.5 Acres
This remarkable property is available now at an unbeatable price and won't be around for long. Make sure to grab it while you can.
Follow me as I take you on a tour of this remarkable property.
This Hy-Vee Is A One Of Its Kind In Iowa & Illinois
The Hy-Vee store in Clinton, IA has a unique feature at its deli counter that makes it a one-of-a-kind store in Iowa and Illinois. The deli counter also makes sandwiches to order with meats, cheeses, bread, and produce all from the store.