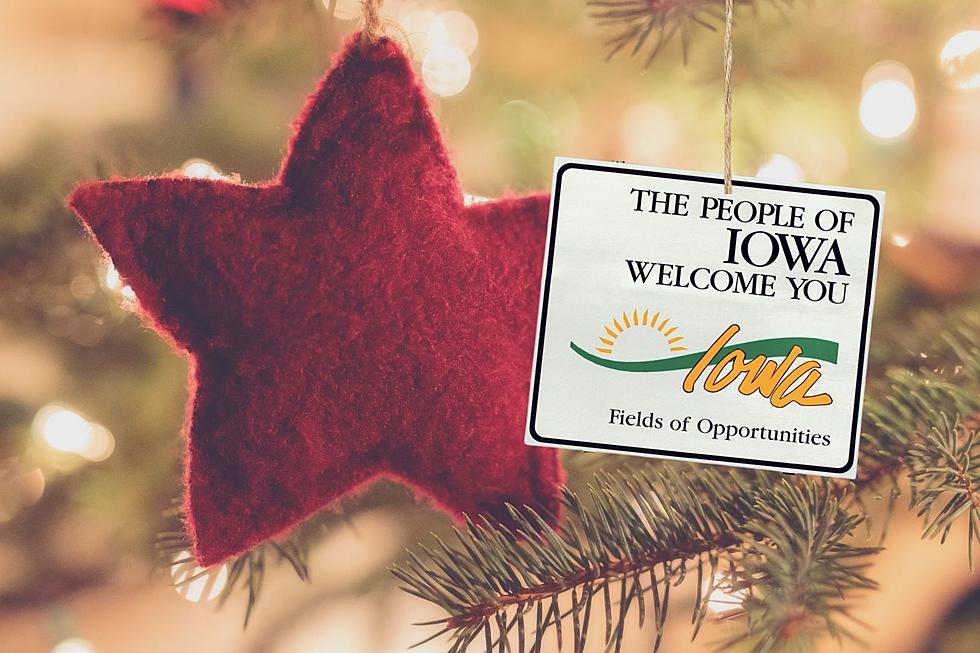 The Magic Of The Holidays Comes To City In Eastern Iowa
Canva
The holiday season is here this eastern Iowa city is rolling out the red and green carpet for visitors and residents alike, the weekend of Dec. 1 through Dec. 3, with a holiday street celebration, dazzling light shows, shopping opportunities, and an enchanting tour of homes.
Mark your calendars and join residents of Muscatine for a weekend full of holiday cheer, starting on Friday, December 1, and culminating on Sunday, December 3.
Holiday Magic Comes To Muscatine
The weekend kicks off Friday, December 1, highlighted by the annual Jingle & Mingle Holiday Stroll and the kickoff of the spectacular holiday bridge light show. Although it started on Thanksgiving night, all are invited to experience the "Illuminate" a drive-thru light display in Weed Park. The weekend wraps up with a Christmas Tour of Homes to benefit Habitat for Humanity.
Muscatine, a past winner of Best Holiday River Town by River Travel magazine, hopes that its neighbors from miles around will make it to Pearl City for this magical weekend as an overnight or day trip. The bridge and drive-thru light shows will also be available nightly through New Year's Eve.
Holiday Street Celebration:
Jingle & Mingle – Friday, December 1 from 5:30-8:00 p.m.
Downtown Muscatine will be transformed into six blocks of holiday cheer including pictures with Santa by Tiny Tunes, visits from famous holiday characters presented by Ascentra Credit Union, free hot chocolate provided by Hy-Vee, live music and much more! Over 30 businesses are participating, including the opportunity to shop downtown Muscatine's unique retailers for the perfect holiday gift. Admissions and attractions are free to the public.
Holiday Light Shows:
Witness the magic of the season come to life with two unique holiday light show experiences!
Norbert F. Beckey Bridge – nightly from December 1 – January 1, 2024
A synchronized music and light show will run nightly beginning December 1 and run through the holiday season. The free light show, powered by Muscatine Power and Water, will launch Friday, December 1 at 7:45. Outfitted with 43 LED light fixtures, this one-of-a-kind bridge light show is made possible by Musco Sports Lighting.
Illuminate – nightly from Thanksgiving through New Year's Eve
Drive through our beautifully decorated Weed Park with over 40 professional light displays. Staffed by volunteers to raise funds for Crossroads and Senior Resources, this inaugural event is sure to become a Muscatine tradition! A $10 per car donation is suggested.
Tour of Homes:
Habitat for Humanity Christmas Tour of Homes: Sunday, December 3 from 2:00 – 4:00 p.m.
Ticket information is available at www.muscatinehabitat.org or at Real Estate Resource Associates located at 100 W. 2nd St.
Experience the charm of Muscatine's most beautiful and festively decorated homes during Habitat for Humanity's Christmas Tour of Homes event. Participants will have the opportunity to step inside several stunning residences and admire the creative and imaginative holiday decorations. This self-guided tour will provide inspiration for your own holiday decorating and leave you in awe of the talent and creativity within our community.
For more information, please visit www.muscatine.com or www.discovermuscatine.com.
A Look Inside Knee-High Distilling Co., Muscatine's First Craft Distillery
Knee-High Distilling Co. announced it would become Muscatine's first craft distillery
back in August of 2022
. Almost 9 months after the business was founded, Knee-High products are now hitting the shelves at grocery stores and liquor stores in Iowa.
Gallery Credit: Connor Kenney/Townsquare Media Quad Cities
The 20 Best Meals In The Quad Cities
Are you one of those people who know they want something to eat, but don't know exactly WHAT you want to eat? You know you don't want to stay home and cook, and you know you want to go out to a restaurant, but maybe you don't know exactly what you're craving. Where does one find good food in the Quad Cities?
WORRY NO MORE! We are here to help!
We asked a question on our Facebook page "What is the best meal in the Quad Cities" and many people shared their favorite restaurants and dishes in the comments. We have put together a list of the 20 Best Meals in the Quad Cities so that you can get out and try something new!
These restaurants are a place of good times, great food, and reasonable prices!
Check out all the restaurant's websites by clicking on the green wording!
Have fun scrolling!