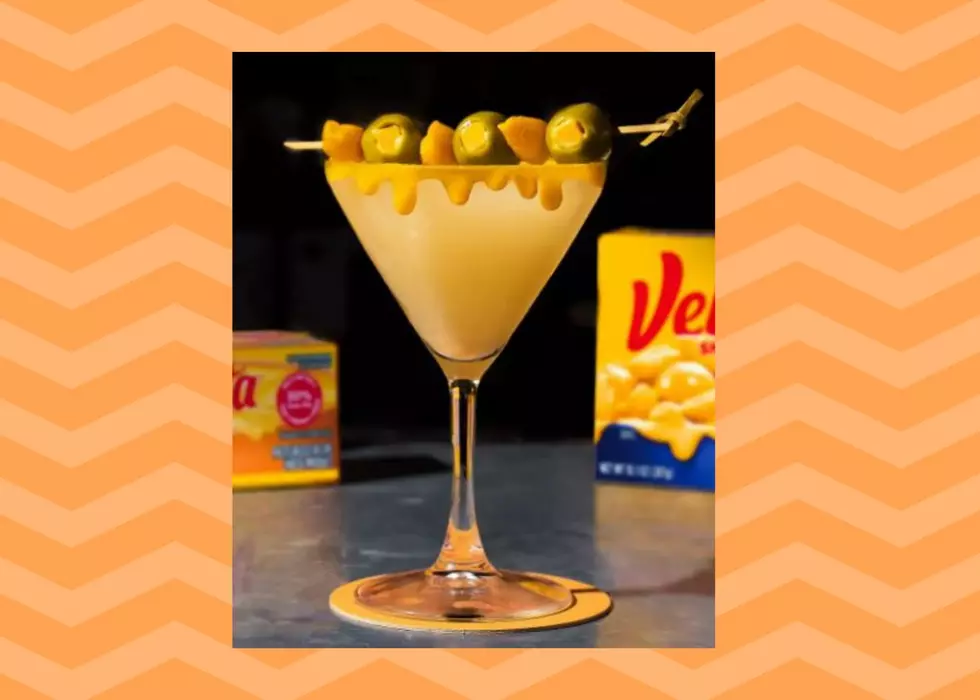 The Infamous Velveeta Martini Is Available At This Illinois Restaurant
Velveeta
American marketing is truly at an interesting place and Velveeta's summer venture- "The Veltini"- is proof of that.
On the list of things that no one asked for is "The Veltini", launched into the world by Velveeta last week. According to Food & Wine, it is a martini that's made with vodka that has been steeped in Velveeta cheese sauce (for 24 hours), olive brine, and vermouth. It's garnished with a cheese drip and Velveeta pasta shells. Behold:
If you, for whatever reason, are determined to try this monstrosity, it's available at limited places nationwide this summer and that includes The Florentine in Chicago, according to NBC Chicago. But would it really be a marketing creation without an additional catch?
The Veltini is only available at The Florentine during Golden Hour (see what they did there?), which is 5:00 p.m.-8:00 p.m.
Guys, the cocktail itself is fifteen dollars. For a drink based in Velveeta-permeated vodka.
Who in Velveeta's marketing department looked at the summer of 2022 and said "You know what this summer needs? Velveeta-infused vodka". Look, I love a good beer cheese dip and Velveeta is excellent with Rotel but why would you ruin vodka with it?? Why?
If you're not going to Chicago this summer but you still have the determination to have a Veltini, you can order a kit to make one at home from Goldbelly. However, the kit currently has a waiting list (which really makes me question the mental status of Americans) and it will set you back more than the Veltini will, costing $50.
The 30 Best Quad Cities Restaurants To Cure Your Hangover
The morning after a good party can be rough. Nothing can cure a bad hangover like some good food. Here are the places you said are the best cure a Quad Cities hangover.
Bettendorf's Newest Tavern Has a Drink For Everyone in Your Crew
Oak Grove Tavern is now open in Bettendorf!