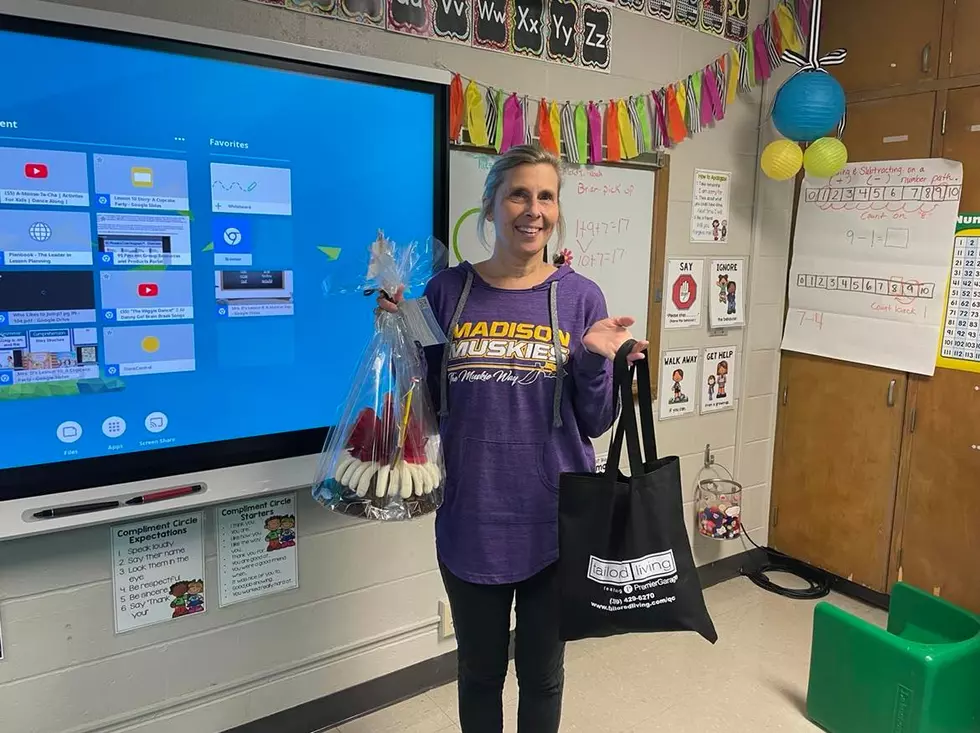 QC Teacher Of The Week: Von Danielson At Madison Elementary In Muscatine
QC Teacher of the Week Fall 2022
It's the Fall 2022 semester and we are heading out to schools with our awesome program with Nothing Bundt Cakes to honor and reward our awesome Quad Cities teachers and educators. It's called QC Teacher of the Week and we are so excited to announce this week's teacher of the week!
It's now time to announce this week's B100 and Nothing Bundt Cakes QC Teacher of the Week!
Congrats go to Mrs. Von Danielson, who is the first-grade teacher at Madison Elementary School in Muscatine!
Mrs. Danielson was nominated by her student Noah Nazareth and his mom. Noah and his mom said,
I nominate Mrs. Danielson at Madison Elementary in Muscatine. She is the absolute best teacher. Noah is new to the school and so is she. She was so welcoming with open arms when he was nervous about his first week.  She is so loving and caring and cares about each of her students. She goes above and beyond and makes sure every student is welcomed and that they are important. She teaches them education and kindness and is always smiling. She is kind to everyone and deserves the best. She is a really great teacher and I'm so happy my son Noah Nazareth has her as a teacher!
You are so awesome, Mrs. Danielson! For being our QC Teacher of the Week, Mrs. Danielson has been rewarded with a B100 Prize Pack which included a B100, stickers, pop sockets, koozies, Bubbl'r from Pepsi, and more things, plus an awesome cake from Nothing Bundt Cakes! 
Thank you for your hard work and dedication, Mrs. Danielson!
To nominate your favorite teacher for QC Teacher of the Week, click the button below:
NOMINATE: QC Teacher of the Week
Congrats to all of our Fall 2022 semester QC Teachers of the Week!
This Twitter Account Is Renaming Everyday Objects And They're Hilarious
We found this hilarious Twitter account called @TheCorrectNames. The account took photos of objects and animals and gave them the "correct name." We couldn't help but laugh when reading through these.
We wanted to share these funny new names with you, so here are 50 things that have been given the "correct names."
(WARNING) Some may be inappropriate.
Top 6 Stinkiest Places In The Quad Cities
We asked people of the Quad Cities, "What are the stinkiest places in the Quad Cities area?" A place that you drive by and say YUCK! That STINKS!
This is what people had to say: